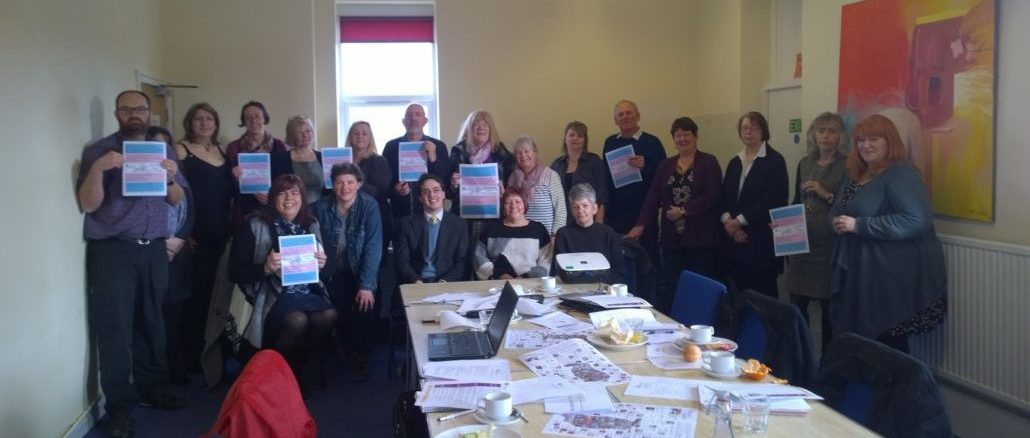 Staff and volunteers of Mindline Somerset & Mindline Bristol, the mental health helpline, have launched a specific Trans + helpline pilot for the South West of England,
The new out of hours confidential helpline was launched at the South West Mind meeting in Taunton last Thursday (9 February) and went live the following day (Friday 10 February).
The service will operate on Mondays and Fridays of each week from 20:00 until midnight by fully trained volunteers.
Mindline Trans+ offers emotional support to people who are Trans+ (transgender, gender fluid and non-binary) and anyone wanting to talk about their gender identity.
The helpline is also there to offer support and information to family and friends.
Research shows high levels of suicide ideation and self-harm experienced by Trans people.
Mindline say there is a lack of specific and consistent out of hours support offered to this client group.
National Mind are commissioning the two local Minds to pilot a telephone helpline supporting the wellbeing of Trans + people who are experiencing mental health problems.
Linda Ling Project Lead for Mindline Trans + in Taunton said:
"We recognise the need for regular out of hours support for many people who identify as Trans +, their family, friends.
The helpline will be operated by volunteers from a mixture of backgrounds, those who have Trans lived experience, those from the LGBT community and Trans allies, all having received the Mindline mental health helpline induction training and also specific Trans awareness training. Many Trans people experience isolation and are at higher risk of suicide."
A Mindline Trans+ volunteer said:
"18 months ago I could have been just another transgender statistic, another percentage in the already high suicide rate for transgender people.
Instead through the medium of talking and being listened to I am still here and because of this I am now involved in Mindline Trans+ helpline.
This proves that given the right help and support we can turn our world around for the better."