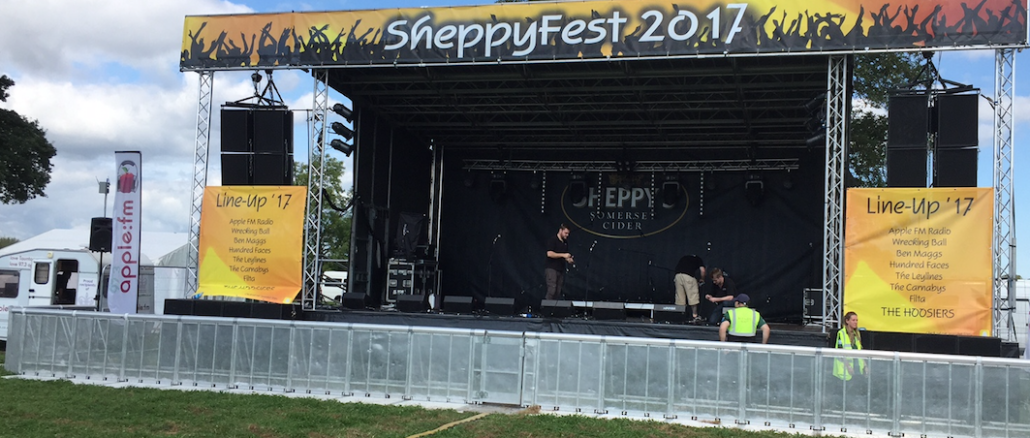 On Saturday 2nd September, Sheppy's Cider Farm hosted the second annual Sheppyfest.
This year Apple FM were asked to host the stage which saw great acts perform including Wrecking Ball, Ben Maggs, Hundred Faces, The Leylines, The Carnabys, FILTA and this year's headliners The Hoosiers. The band performed their huge hits "Worried About Ray", which reached number 5 on the UK Singles Chart, and "Goodbye Mr A", which reached number 4 in the charts. They also performed some new material alongside tracks from their number one album from 2007 "The Trick to Life."
Apple FM also broadcasted live from Sheppyfest this year from 4pm. Allowing us to bring the atmosphere of the event to the Taunton community that weren't able to come to the event. This was the longest and largest outside broadcast in Apple FM's history and the team had a fantastic time.
Check out our picture gallery from Sheppyfest here.
These are Apple FMs Facebook Live videos from the day
The Hoosiers at Sheppyfest

FILTA get the crowd going at Sheppyfest

Ross and James with a pre-festival tease

Some Sheppyfest Videos shared on Facebook / YouTube
Listen back to our Sheppyfest broadcast below
Requires Flash Player



Listen back to any Apple FM show here.