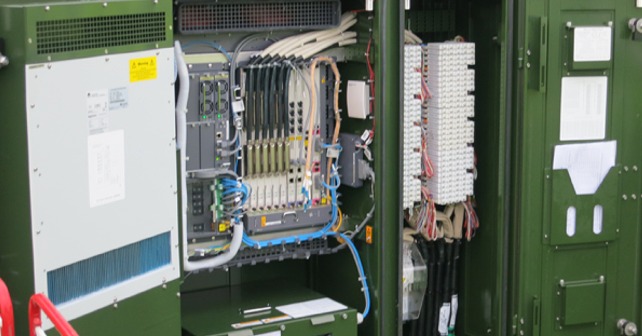 Villagers in Cotford St Luke were among thousands of people across the UK today celebrating the arrival of superfast broadband.
The Somerset village, which is on the outskirts of Bishops Lydeard, is the latest to benefit from the £94 million Connecting Devon and Somerset partnership.
The 'switching on' of the village's first fibre broadband cabinet is part of a national initiative, which sees similar cabinets in many parts of the country 'going live' simultaneously today. "Super Switch On Day" marks the progress of superfast broadband partnerships with Broadband Delivery UK (BDUK) – the government agency providing £780 million in public funding to help extend superfast broadband to 95 per cent of the UK by 2017.
Connecting Devon and Somerset builds on the private sector's commercial roll-out of fibre broadband so that around 90 per cent of homes and businesses in the two counties will have access to superfast broadband speeds of at least 24Mbps by the end of 2016.
More than 330 homes and businesses in Cotford St Luke can now order the high-speed technology which offers broadband speeds up to 80Mbps. According to the latest report from regulator Ofcom, the average broadband speed in Somerset is 10.1Mbps.
Communications Minister Ed Vaizey said: "The switching on of super-fast broadband in Cotford St Luke is great news for both local residents and businesses. Today's announcement is just part of a transformation of broadband services happening throughout the UK. Broadband is an essential part of the South West's present and future. It is vital that we embrace this latest generation of technology in order for our economy to remain competitive."
David Hall, Deputy Leader of Somerset County Council, said: "High speed fibre broadband is one of the most important considerations for companies looking to move into and invest in our area as well as being vital in enabling our local businesses to grow and flourish. For our communities, with many aspects of public services moving online, having access to high speed broadband is now a necessity. Super Switch on Day is an important milestone for the Superfast Broadband programme across England and we are delighted to be taking part."
Dan Piper, Senior BT Project Manager for Connecting Devon and Somerset, added: "All over the country fibre broadband is changing people's lives. It provides a digital gateway to a wealth of opportunities whether it is supporting how we work, how we learn, how we communicate with friends and family, or how we entertain ourselves.
"Access to high-speed broadband is rapidly becoming a key ingredient for economic growth and is also a major determining factor in where businesses decide to locate.
"Fibre broadband opens up a whole raft of leading edge software applications that could benefit business – allowing them to work more efficiently, for people to work when and where they want to, to expand their business offerings and to connect with customers, not just locally but all over the world."
Cotford St Luke is one of the first communities to get fibre broadband through the Connecting Devon and Somerset partnership. Other communities where the partnership has already provided fibre broadband include Sticklepath, Bradford on Tone, Creech St Michael, Monkton Heathfield, Bishops Lydeard, Henlade, North Curry, Wellington and Exminster.
Openreach, BT's local network business, is primarily deploying fibre-to-the-cabinet (FTTC) technology, where the fibre runs from the exchange to a local roadside cabinet. Fibre broadband at home means everyone in the family can do their own thing online, all at the same time, whether it's downloading music in minutes or watching catch-up TV; streaming HD or 3D movies in the few minutes it takes to make popcorn; or posting photos and videos to social networking sites in seconds.
Fibre improves the quality of online experiences and supports exciting new developments in internet services. The benefits are also considerable for businesses, which can do much more in far less time. Firms can speed up file and data transfers, collaborate with colleagues and customers on conference or video calls or swap their hardware and expensive software licenses for files, processing power and software from cloud computing. Staff can work as effectively from home as they would in the office.
Openreach engineers will install the fibre network which will be open to all communications providers on an equal wholesale basis. Households and businesses will therefore benefit from a highly competitive market, bringing greater choice and affordable prices.