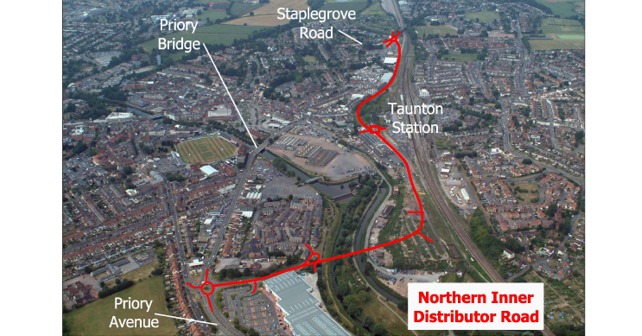 Work on the next phase of a major project to unlock £270 million of investment in Taunton is due to start next week.
The Northern Inner Distributor Road (NIDR) is a £22m project led by Somerset County Council to provide a link from Priory Avenue to Staplegrove Road, easing congestion in the town centre and on Priorswood Road.
Over the past few weeks, the 40 Steps footbridge over the railway at Chip Lane has been successfully removed and the construction of bases for the new cyclebridge has begun.
Work has also started to build the foundations of the new Firepool Bridge which will span the River Tone and Canal. Nine metre foundation piles have been bored down into the ground to support the new structure and a temporary bridge has been installed across the River Tone. This will allow heavy machinery to access the area between the River and the Canal so they can start constructing the bridge piers.
From 8 January, Somerset County Council will also be working to connect a new drainage system along Staplegrove Road. To do this safely, traffic will be prevented from travelling north beyond Richmond Road.
This restriction will be in place for a maximum of two weeks and southbound traffic will be unaffected with access to properties and business premises maintained at all times.
Traffic wishing to access Chip Lane from the south will be diverted via the Third Way, A38 and A3065 Silk Mills.
Cllr Harvey Siggs, Somerset County Council Cabinet Member for Highways, said: "The NIDR is a really important investment in our county town, creating jobs and providing homes for local people.
"I'm pleased the work is progressing well and although this latest phase in Staplegrove Road will cause some disruption, we will do our best to keep this to a minimum.
"Please bear with us in the short term and remember that the completed road will provide an additional east-west link which should help ease congestion in and around Taunton in future."
The NIDR will provide access to the Firepool regeneration site where there are ambitious plans for a riverside business, residential and shopping development which will create thousands of jobs and hundreds of homes in the area.