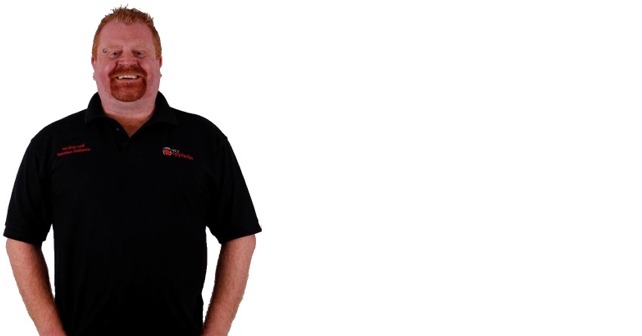 For years I remember always having wished I had followed a former classmate of mine, who went into Hospital Radio in our home city of Kingston upon Hull in East Yorkshire, many years ago, but I didn't know what to do to make the first move, so rather stupidly, I never did.
I had my first entry into this field, however, when I was 16 years old. I had a short stint on the Hull & District Talking Magazine for the Blind where I was a volunteer "Reader". The Readers would go into our Studio once a fortnight and read out clippings of local and national newspaper articles which would be recorded by the Engineer on to a tape (yes, Tape – it was 20 years ago!) which would then be mass copied and distibuted through the post to Blind and Partially sighted residents in the Hull and East Yorkshire area free of charge. It was huge fun and gave me a good grounding on how to speak correctly when being "Broadcast"
After moving to Crediton, Devon in 2004 I had the honour of being asked to join my local Lions club, where I served for the next 8 months as a member of the Fundraising Committee. Just before the next AGM I was asked if I would consider allowing my name to go forward to be the next Fundraising Chairman. I agreed and on the evening of the AGM I was voted into the position.
I spent the next year like a madman, arranging quite a few fundraising events including an arts and crafts fayre, Car-based Treasure Hunts (we were in the countryside!), Giant Easter Egg Raffles & a Family Fun Day, all of this around owning my own Newsagents.
So, we come to the recent past – October 2010. I contacted Apple as I had moved not too far away from Musgrove Park Hospital and had decided that it was time that I tried to push myself forward as I should have done 20 years prior. I joined as a trainee in January 2011 and I learned how to use the equipment with great ease because I had a natural knack and a wonderful trainer – Simon West. Then after just 8 weeks in training I found myself thrown into the deep end when a presenter, who I had been visiting in the studio for a few weeks, didn't turn up to do his show! It normally takes quite a few months for a new member to be trained to be able to operate the equipment on their own, but I felt that this was my chance to prove myself and either sink or swim! Both the Chairman & Vice Chairman agreed that I could do it and thankfully I did a good job! Within another couple of months, I had got so involved in the Station that I was asked to join the Committee as the Fundraising Coordinator, which, although I knew it would be a daunting job, I agreed to. I have since also become a Trainer and also have started to assist the Studio Engineer. Talk about diving right in – Phew!
I host "Spotlight on Somerset" Tuesdays from 8pm – I'd love you to listen in. I'm also part of the Drive Time Team, helping to present Drive Time.