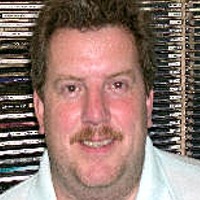 Richard Smith soon realised that there was much more to Hospital Radio than being a DJ.  After a period of ward-visting, fund-raising, studio training, programme presenting and just about everything else involved with a successful station, he became Deputy Station Manager in 1989 until 1991.
In 1993 he went on to build Radio Robin in Derby – a community station, having raised £15,000 in just two years, they finally did our first broadcast in July 1995.
He was planning to get back into Hospital Radio, when in September 2003, he was involed in a very serious road accident which resulted in the amputation of the lower part of his right leg.
Having spent many months in recovery listening to hospital radio, he felt that he had a better idea and a greater understanding of what patients need from their local service.
So Richard set about creating a programme which hopefully would appeal to most listeners young and old alike.
The A to Z Of Pop has been created especially with Hospital Radio listeners in mind.
Join Richard Smith for The A To Z Of Pop every Sunday at midday.