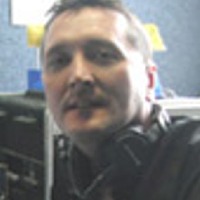 What a busy life Sean leads ! Having toured the world as an in-demand and award winning DJ and radio presenter since the age of 17, Sean – who is now in his early 40's – now brings his collection of "Phat & Funky Club Classics" to Taunton's Apple FM each week on his Club Classics show.
He also runs his own, very busy production company, where he's a writer, producer and voice-over artist – you might have heard him on radio and TV commercials, and computer games and arcade machines ?
Sean's a member of the British actors Union equity and has appeared in several episodes of Emmerdale, as well as Heartbeat and The Royal.
In addition, having previously worked in Bosnia and Kosovo whilst contracting with NATO's "PsyOps" department, in early 2011 he assisted in setting up Radio Bayan, based within ISAF's HQ Kabul base, in the Afghanistan capital.
Away from his 'production' activities and the 'Sounds Good' studio, Sean – who's married and has two children and a Doberman called Poppy – is also an enthusiastic Scout leader with Hessle Scout Group and as well as teaching 'outdoors' and survival skills, he's also a qualified shooting and climbing instructor. And when he gets the time to train properly, Sean's also working his way through the Shukokai marshal arts Karate gradings.