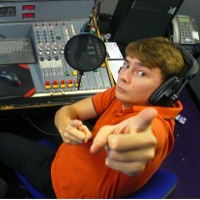 One of the 'new blood' on 97.3 FM, Jack started presenting with Apple FM in November 2013. This was following 3 years at Royal Holloway, University of London where Jack, as well as achieving an Honours Degree in Drama and Theatre Studies, spent much of his time as a presenter and producer for North Surrey's community radio station Insanity Radio on 103.2FM; in his final year being awarded 'Best Male Presenter' for his show Jack Attacks the Airwaves. Looking for the next step in a career in radio, Jack was thrilled to get on board with Apple FM.
When not on air, Jack works as a Waiter but also Quizmaster at The Worlds End in Bradford-on-Tone, bringing much fun as well as trivia every Wednesday evening from 9pm. This complements his work on Apple FM as it is another place to perform as well as be heard (and it doesn't hurt for general knowledge either)!
When asked what his favourite genre of music is, Jack always has the same response that is "EVERYTHING!" He is a true eclectic, and loves broadening his musical knowledge. A simpler question would be what his favourite period of music is, and that is between the 70s, 80s, 90s and even the present, with a music library full of a wide range of music from these decades.
You can catch Jack presenting alongside Jay Jay on "The Breakfast Show" dunning some weekdays mornings between 7am and 10am, with much fun to be had, whilst also checking out the latest news stories, travel and weather information. But you can also find Jack on Thursdays and Fridays between 4pm and 6pm for his very own Drive Time show "Hit the Road Jack", with such features as 'DJ Jack's De Ja Tracks' – taking something old and something new, and seeing how they are connected; the 'Top 5 at 5' – playing five songs from the same year, all you have to do is guess which year to be crowned Top 5 King or Queen; and finally 'Request Time' where you can write in with your requests for songs to be played on the show.