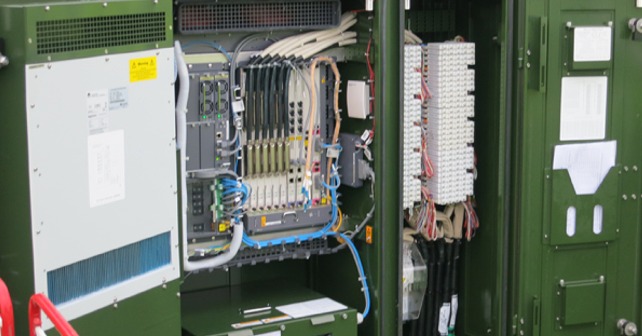 Connecting Devon and Somerset (CDS) will have made high-speed fibre optic broadband available to 70,000 homes and businesses by the end of July, it was announced today.
The latest exchange areas to benefit from the £94 million programme's roll-out plans in Somerset is Spaxton and North Petherton.
There are 19 locations where exchanges have benefited from high-speed fibre in Devon and Somerset, 8 of those in Somerset include Bradford-On-Tone, West Monkton, Taunton, Bridgwater, Bishops Lydeard, Henlade, North Curry and Wellington, where the partnership has already made fibre available and a further 7 are planned across Devon and Somerset, 3 in Somerset being Blagdon Hill, Greenham and Milverton which are due to 'go live' by the end of March 2014.
Whilst some of these exchanges are located in urban areas, they can reach deeply into rural areas and cover many small villages.
The new announcement comes on the first anniversary of the programme's partnership with BT.
CDS will also extend fibre broadband coverage in Somerset to Ilminster, building on the technology already available through the private sector's commercial roll-out. Much of the new CDS network is being built out from areas where fibre broadband is already available in order to ensure best value for money when rolling out the technology to as many rural locations as possible.
Alongside the private sector's commercial roll-out, the Connecting Devon and Somerset programme aims to make superfast broadband speeds of 24Mbps and above available to around 90 per cent of homes and businesses by the end of 2016. It also plans to ensure a minimum of 2Mbps for all premises within the programme area and is actively seeking more funding to further extend the availability of superfast broadband across the whole area.
Councillor David Hall, Deputy Leader of Somerset County Council, said: "We are delighted with the progress that has been made so far but clearly the severe flooding in Somerset is posing challenges for the engineering teams who are rolling out the new network. Connecting Devon and Somerset is working very effectively to deal with these and ensure the roll-out continues at a fast pace. For example, where the flooding is particularly serious we will switch some work to less severely affected areas until the waters subside.
"We will do all we can to ensure that communities get access to superfast broadband as soon as possible. Already, thousands more Somerset homes and businesses are able to take advantage of the great opportunities offered by the new technology – and many more will be following in the months ahead."
Laurent Boon, BT's programme manager for Connecting Devon and Somerset, said: "Despite the difficult weather, the partnership has achieved strong progress and is already bringing great benefits to rural communities. On the first anniversary since the partnership's contract signing, we have made fibre broadband available to more than 16,000 premises and put in place clear plans to reach 70,000 by early Summer. This is a major boost for our households and businesses in rural areas."
The interactive map on the Connecting Devon and Somerset website at www.connectingdevonandsomerset.co.uk has been changed to reflect the latest exchanges. The map will also be updated regularly to show the progress of the roll-out programme as cabinets 'go live'.