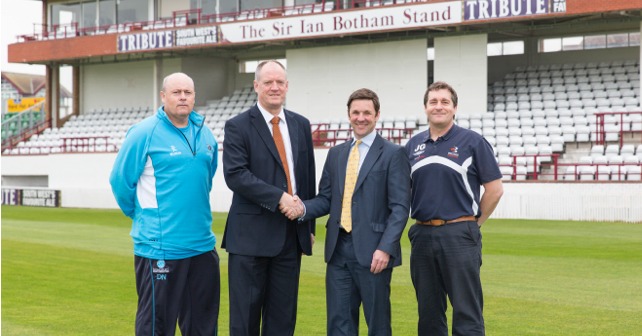 Bridgwater College and Somerset County Cricket Club (SCCC) are excited to announce that they have formed a new Educational Partnership to try and maximise participation in cricket and sport in Somerset and the surrounding areas.
The innovative new partnership will give local people the opportunity to attend events, promotional days but will also focus on education and learning courses. The County Ground will be used to host and run a pre-employment programme for people wanting to gain sports specific qualifications and skills, with training provided by Bridgwater College. The programme allows attendees to volunteer at events in various roles and gain additional qualifications.
There will be various other events throughout the year, such as a Schools Day and "Kids go free" day, where current Bridgwater College students will take part, including Team BC Sports, Performing Arts Academy and the Media Academy3.
Jez Curwin, Head of Commercial Operations at SCCC said, "We are delighted to announce this partnership with Bridgwater College and are convinced that we will be a fantastic platform to support the College in their business targets moving forward. We are especially excited by the opportunity to provide real tangible benefits for young people who have a real interest in trying to get back into work."
Matt Tudor, Head of Business Development at Bridgwater College said, "Bridgwater College is extremely excited about this partnership and the educational benefits it will provide to local unemployed people, through practical work experience, volunteering and learning in, and around, a professional sports environment. We are very much looking forward to developing further education opportunities in partnership with Somerset County Cricket moving forward."
The College's Media Academy3 has previously worked with the Cricket Ground, filming at many events and games in order for SCCC to present them on their website, and at the end of season awards ball.
If you would like more information about studying at Bridgwater College please contact our Information and Guidance team on 01278 441234 or visit www.bridgwater.ac.uk.