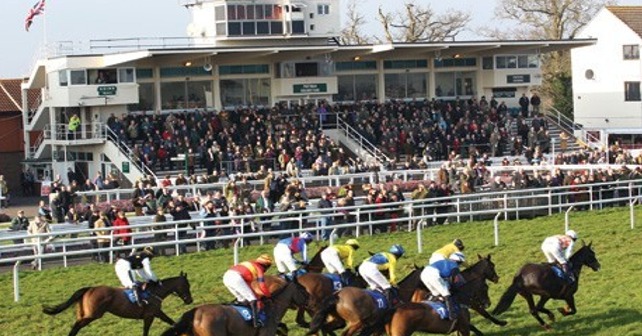 Taunton's Race Course Evening meeting on April 23rd brought the curtain down on another successful racing season with A.P.McCoy, the recently crowned National Hunt champion jockey for the 19th time and Derek Thompson, 'Tommo' the voice of racing, on hand to make sure it was done with style.

McCoy did what he does best and rode the first three winners on the card while 'Tommo' hosted the evening from the ring in his inimitable style, much to the enjoyment of the large crowd present.

The biggest meeting of the 2013-14 season from an attendance point of view was the post Christmas meeting on December 30, when a bumper crowd turned out to enjoy a full afternoon of jump racing action.

History was made at Taunton at the two January meetings that took place.

The Orchard Portman course hosted its first ever Saturday meeting, since being established in 1927, on January 18th with a card that boasted three Class 3 events and again on January 28th when Alex Dunn became the first woman to both ride and train two winners at the same meeting.

Jason Loosemore the new Clerk of the Course has proved himself to be a very capable replacement for the vacancy left by the death of Mike Trickey.

Several horses that appeared at the Orchard Portman course during the season have gone on to achieve greater things.

Irving who ran on November 14th went on to win three more races, two Grade 2s and was then made 7-2 favourite for the Supreme Novices at Cheltenham.

Aqalim won the National Hunt Flat race on December 12th ,before going to win a NHF at Kempton and then onto Aintree for a Grade 2 NHF, finishing third.

Le Bacardi won a Handicap Chase on April 3rd at Taunton then finished second at  Ayr on April 11th before winning a £20k Handicap Chase the following day, the  Scottish Grand National meeting, at the same course.

The icing on the cake for Taunton came from Richard Linley, the Senior Inspector of Courses for the British Horseracing Authority who after a recent visit said: "They have done a fantastic job here during the course of the season and are to be congratulated on their efforts."

The 2013-14 season may have ended but during the close season drainage work costing £25k will be carried out on both the home and back straight of the course.

Work is also set to get underway on knocking down the ticket offices by the main entrance to make way for the extension work on the Paddock Stand at a cost of £400k, which will be completed in time for the new season on October 29th.