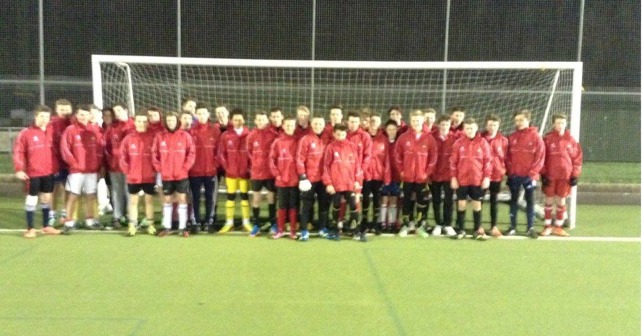 Bridgwater Town FC Football Development Centre, established in January and which works in conjunction with local grassroots clubs to provide high quality and structured coaching from FA/UEFA qualified coaches to young local players, is expanding to include a new under 14 age group.
Players who are selected to be part of the Football Development Centre will remain with their grassroots clubs and access this additional training to supplement their development.
The Football Development Centre is now looking for talented players for the upcoming season. Free open training sessions for next year's under 14s and under 15s – players who are currently in years 8 and 9 – are being held at Bridgwater College at 7pm on Monday 7, 14 and 21 July. Places are limited, so please book and confirm attendance by emailing sport@bridgwater.ac.uk with your name, contact details, date of birth and school.
Selected players will then be invited to attend two pre-season training camps on Monday 11 and 18 August, followed by weekly training sessions on Monday evenings, starting in September. Players will also receive a comprehensive gym induction, access to Bridgwater College's Health and Fitness suite and a Development Centre training top.
Jack Hobbs, from Taunton, who currently plays for the Bridgwater Town FC Football Development Centre said, "The Bridgwater Development Centre is run like a professional set-up and has really helped me to develop my technical ability and understanding of the game."
Luke Buckingham, Sports Development Manager at Bridgwater College said, "We've had some really positive feedback from players, parents and clubs about this project, and this expansion signals a commitment from both the club and the College to help the development of young footballers in the local area."
To keep up to date with all the latest news and developments about the Development Centre please 'like' our Facebook page at www.facebook.com/Bridgwatertownyouthdevelopmentcentre and 'follow' us on Twitter @BWC_Sports.