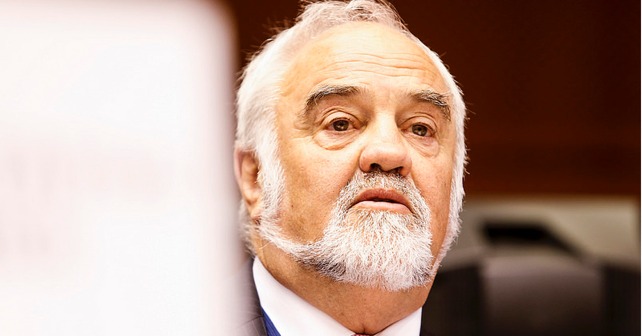 An important piece of work which will shape the EU's policy in building resilience against flooding and other natural disasters has been developed by Somerset County Councillor Harvey Siggs.
Cllr Siggs travelled to Brussels on Thursday (26 June) to present his opinion to regional leaders from all EU member states at the Committee of the Regions. The opinion will now inform EU policy development ahead of the United Nations discussions on their approach to disaster resilience which will take place next year. Speaking on behalf of local government across Europe, he argued that the EU should take more concrete steps to build resilience against disasters and should place regional authorities at the centre of its plans. He said that although local councils are on the front line dealing with natural disasters, they often lack the necessary resources. He emphasised that the role of local authorities is crucial and said they must be sufficiently prepared and resourced to manage risk and ensure prevention.
Cllr Siggs, who is Somerset County Council's Cabinet Member for Highways and Transport, said local authorities had three key roles: preparing through improved resilience, reacting with improved co-ordination, and dealing with the impact after disasters. "We need an approach that focuses on prevention, preparedness and resilience, rather than response and recovery," he said. The committee noted that worldwide between 2002 and 2012, disasters were responsible for more than 80,000 deaths and the economic cost was as high as €95bn. Cllr Siggs's opinion speech, which was adopted by the Committee, also highlighted the critical role that the private and voluntary sectors can play in preparing for future problems.
Other key areas were improving communication and making the most of new technologies such as social media to keep residents informed. He called for more private-public partnerships and highlighted the role of insurance companies. Cllr Siggs also argued that building resilience in infrastructure and transport is the most effective way to minimise risks and reduce long-term costs. "If we want to effectively and efficiently manage disaster risks and achieve resilience, then we must work with the private sector. Private insurance, for instance, can contribute to sustainable public finances and has a role to play in disaster risk management. It helps to reduce the negative economic impact and facilitates recovery. Well-designed insurance policies can also discourage risky behaviour and promote risk awareness," he said. During his speech, Cllr Siggs called for more training and education as well as underlining the critical role that voluntary and civil society could play in preparing for future problems.
He told the committee: "Disasters will continue to occur and may well increase in the future. It is important to remember that recovering is costly and takes a long time. We must build resilience into everything we do and we must do so in partnership with the private sector." Somerset County Council is co-ordinating the multi-agency Flood Action Plan developed in response to last winter's flooding, which includes action to build more resilient infrastructure and promote community resilience.