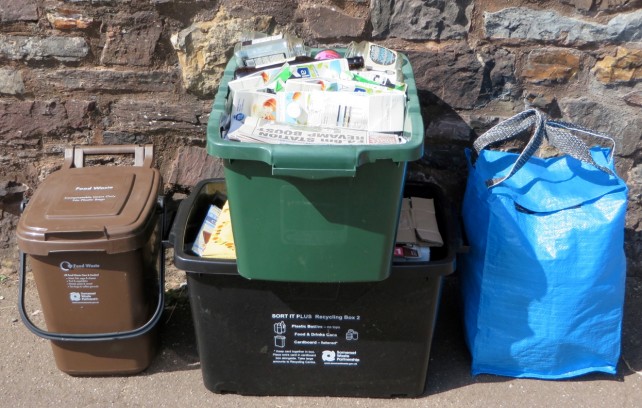 The latest trials exploring how Somerset can boost recycling and reduce waste have ended on a positive note.  All households have reverted to the usual county-wide collections.
 Since September, 5,500 households in Taunton Deane have been involved in one of three different "Recycle More" trials organised by Somerset Waste Partnership (SWP) to test new items for recycling, new collection frequencies, and – if required – new containers.
SWP managing director Steve Read said: "There has been a very positive reaction to the collection of additional materials through the trials and we have learnt a lot to help us plan for the future. Very few problems arose and we aimed to quickly sort out any that did.
"We will analyse all the trial data and feedback. Findings will be reported to local councillors next year, along with results from other studies and possibly proposals to do further trials building on what has been learnt.
"From the reactions I and others have heard on the doorstep, most people were happy to help SWP gather the evidence that will be essential to shape efficient, cost-effective and low-waste services from 2016/17 onwards."
All households involved in the trials in parts of Taunton, Wellington and Wiveliscombe were sent a thank you letter during the week before their last trial collection, with a reminder that they would revert to the standard scheme, and invited to provide feedback on how it went for them.
In addition to the existing dozen recycled materials, including food waste, all trial households were able to recycle extra items: plastic pots, tubs and trays; beverage cartons, such as food and drink cartons; household batteries; and small electrical items.
With every household continuing to have weekly food waste collections, the trials also tested fortnightly collections of dry recycling and, in one area, three-weekly refuse collections. Extra and different containers, from clear sacks to blue bags, were another aspect of the trials.
All Recycle More households should ensure they have had their end-of-trial reminder, and can contact Taunton Deane customer services if they have any concerns or need further information.
The Recycle More trials will not bring any immediate changes but will be considered as part of long-term waste services planning from 2016/17, when current recycling vehicles will start being replaced. Local councils and the Somerset Waste Board will decide on any service changes.
In addition to the Recycle More trials, other changes are being tested, with a trial of Taunton and Wellington recycling sites accepting plastic pots, tubs and trays, previous and possible future trials of communications and containers to raise food waste recycling, and a trial of all recycling sites taking plastic bottle "trigger tops" and "flip caps".
All the trials take place in the context of continued pressure both to boost recycling, which has strong environmental and economic benefits, and to cut council spending on waste. Somerset's recycling rate is 51%, with each household producing close to a tonne of refuse and recycling.
Most people recycle, but anonymised analysis of Somerset household refuse shows that, when aggregated, half the contents of refuse bins could be recycled through current kerbside collections, saving up to 50% of the £12.2 million a year Somerset spends on landfilling refuse.
Against all advice, food waste is the largest recyclable material put in refuse bins, followed by garden waste, paper, card, textiles, shoes, plastic bottles, glass bottles and jars, cans and foil.