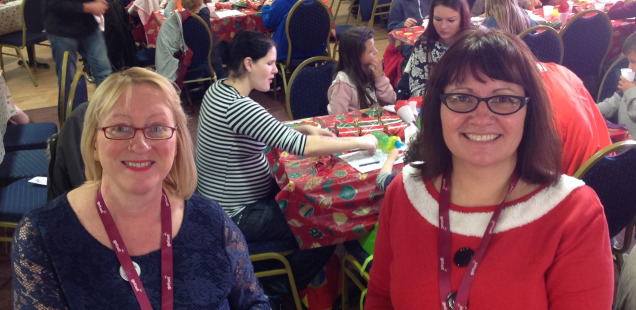 Christmas came early for 100 parents and youngsters today thanks to a brand-new kitchen's tasty test drive – and Somerset County Council's joined-up thinking.
St Augustine's kitchen served up its very first flurry of meals by preparing and cooking nutritious Christmas lunches for Taunton families (Tuesday December 23), free of charge.
The new kitchen, purpose-built by Somerset County Council to provide hot, free school meals to Somerset's primary school pupils, will do so from the beginning of the January term.
Parents and youngsters from Taunton's Halcon area, who use the Somerset County Council-run Acorns Children's Centre, and are supported by the celebrated multi-agency Halcon One initiative, were invited by the Council's Schools' team to enjoy the nutritious spread.
The two-course Christmas dinner (with all the trimmings) was prepared and cooked at the new St Augustine site facilities, and transported to Taunton Town Football Club for eagerly-waiting parents and children.
Frances Nicholson, Cabinet Member for Children and Families at Somerset County Council, said: "We were so pleased to be able to turn what could otherwise have been a routine test drive of our new kitchen facilities for Somerset primary schools into a real occasion for the Taunton families here today.
"After all the hard work, it's fantastic to see the St Augustine's site now operational – we all know how stressful cooking a full-blown Christmas dinner can be, so as far as tests go, it has to be one of the toughest!
"But most of all it gives us the assurance that everything is working, assuring the minority of schools who were receiving cold, free school meals before breaking up for Christmas, that their hot, free school meals will be arriving at the beginning of term."
17,000 extra hot free school meals a day are provided to Somerset's primary pupils as a result of the infant free school meal legislation saving Somerset parents £7.7million a year in lunch costs.
By mid-December over 90% of Somerset's primary school pupils had access to hot, free schools meals. From the start of the January term all Somerset schools who have not yet made arrangements for hot meals will be able to request them from the County Council if they choose to.
Somerset County Council would like to thank its getset Early Help staff at Acorns Children's Centre, Andy Murphy and James Turner, along with the rest of the Halcon One Team, Taunton Town Football Club and BAM for helping make today's Christmas lunch a success.