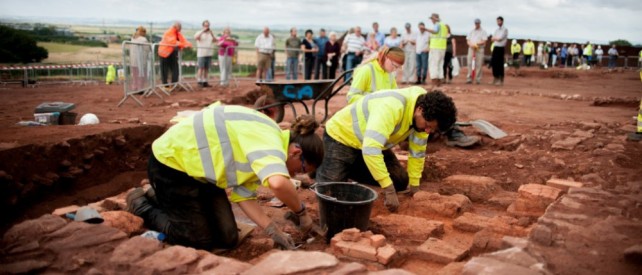 The long history of Somerset's Hinkley Point will be revealed in an exciting exhibition opening at the Museum of Somerset in January 2015.
'Landscapes of Power: The Archaeology and History of Hinkley Point' tells the remarkable stories of one of Britain's largest-ever archaeological projects.
It will shed light on archaeological discoveries from the Somerset site, and from the proposed route of the Cannington bypass, brought to the light through a series of excavations agreed and monitored by Somerset County Council.
It also describes the changing landscapes near Hinkley Point, shaped and inhabited by countless generations over thousands of years.
The exhibition is a collaboration between the South West Heritage Trust, EDF Energy and Somerset County Council.
The excavations, including on-going research and education initiatives, have been funded by EDF Energy, the company behind the development of Hinkley Point C nuclear power station, as part of the planning permission granted for the project.
David Eccles of EDF Energy said: "We are very pleased that these fascinating insights into the history of Hinkley Point can be shared with the local community.
"Our Hinkley Point C project represents another exciting chapter in the continuing story of how people live and work in the area and it is only through this development that we have found out so much about our past."
All of the archaeological work has been carried out by Cotswold Archaeology.
Cllr David Hall, Somerset County Council's Cabinet Member for Heritage, and a trustee of the South West Heritage Trust, said: "This exhibition uncovers the remnants of a complex story.
"It has been revealed through recent, painstaking work by some of the South West's leading archaeologists, as well as from pioneering excavations carried out over a century ago. And believe me – there have been some surprising finds.
"For those who know the area well, and for those who are new to it, the exhibition is an important chance to understand more about Somerset's rich past."
The exhibition opens at the Museum of Somerset, Taunton Castle, on Saturday 17 January 2015 and runs until Saturday 11 April 2015.
The Museum is open from 10am to 5pm Tuesdays to Saturdays, with last entry at 4.30pm. Admission is free.