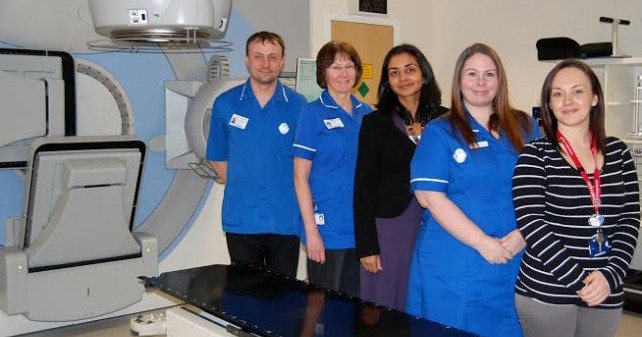 Musgrove Park Hospital's Cancer Centre, the Beacon Centre has implemented an innovative new radiotherapy technique for delivering breast cancer treatment to patients.
The change in technique was implemented after the hospital participated in the HeartSpare II trial (a clinical trial which aims to optimise and individualise heart-sparing radiotherapy techniques), led by the Royal Marsden Hospital and Institute of Cancer Research and funded by the National Institute for Health Research (NIHR).
Musgrove Park Hospital was the first hospital in the UK to complete the study, and roll out this extremely beneficial technique. The new technique is based on research aimed at improving radiotherapy treatment for women with left-sided breast cancer, by reducing the risk of long term complications to the heart.
Patients undergoing breast radiotherapy are usually treated lying on their backs and breathing freely. Great care is always taken to treat as little healthy tissue as possible. However, studies have shown that voluntary 'breath-holding' techniques (where patients are coached to hold their breath for around 20 seconds, whilst undergoing radiotherapy treatment) may reduce the amount of heart tissue exposed to x-rays, as the act of breathing in pulls the heart downwards and backwards away from the radiotherapy treatment beam.
Musgrove Park Hospital's research and development radiographer, Simon Goldsworthy, explained: "We have achieved so much through participating in the HeartSpare II study: we are delighted to be able to say that we have implemented the breath-hold technique as standard practice for all left-sided breast cancer patients.
"Our main aim at Musgrove Park Hospital is providing our patients with the best possible treatment outcome, and avoiding long-term complications, such as late cardiac events. Overall taking part in the HeartSpare II study has had a very positive effect on our radiotherapy service, and I would urge other centres considering the technique to make contact with us."
Dr Mohini Varughese, consultant oncologist said: "The treatments for early breast cancer are continually developing, resulting in significant improvements in outcomes for our patients. The challenge we have in managing patients with early breast cancer is ensuring that all appropriate treatments are given whilst striving to ensure that potential early and late side effects are minimised."
Benjamin Roe, radiotherapy services manager, said: "We have implemented a treatment technique that reduces some of the side-effects of having radiotherapy. This benefits cancer patients undergoing radiotherapy and also reduces some of the complex healthcare management that is required years after completing radiotherapy treatment. It is really pleasing that we can now offer this treatment as standard to our left-sided breast cancer patients".
Dr Freddie Bartlett, Clinical Research Fellow for The HeartSpare Study, said: "It has been wonderful working with the team at Musgrove Park Hospital for HeartSpare II.
"Implementation of breath-holding treatment for all left-sided breast cancer patients is the ideal result, and the speed and efficiency with which Musgrove Park Hospital has achieved this is fantastic."
Pictured from left to right are: Simon Goldsworthy, Dr Mohini Varughese (3rd from left), and the radiotherapy team.