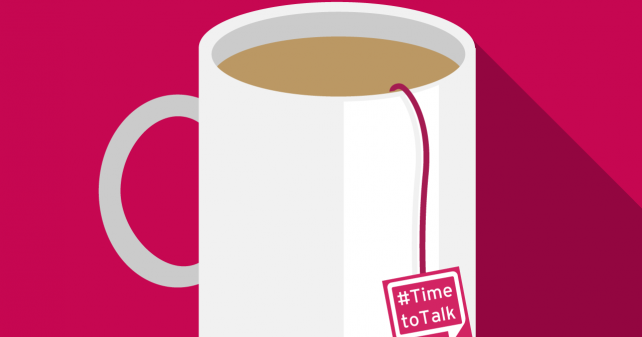 People are being asked to dedicate just five minutes this 'Time to Talk Day' (5 February) to have a conversation with their friends, family or workmates about mental health in a bid to help to break the silence and stigma surrounding the illness.
The national day has been set up by 'Time to Change', the mental health anti-stigma programme run by Mind and Rethink Mental Illness.
Local Somerset organisations supporting the day are Somerset County Council, Mind in Taunton and West Somerset, Rethink mental Illness, Chard Watch project, Heads Up, Wells and Somerset Partnership.
Activity planned for the day includes the Somerset '1 in 4 Tour', four people and a dog travelling across Somerset who will visit the 'Time to Talk' Stands set up in Bridgwater, Chard, Street, Minehead and Taunton and plan to have at least five conversations at every stand.
Each of the four members of the tour has their own personal experience of mental illness and strongly believes in the value of people talking to others about the illness to help break the stigma.
Right now 1 in 6 workers is dealing with a mental health problem such as anxiety, depression or stress. Research shows work is the biggest cause of stress in people's lives, more so than debt or financial problems.
Louise Finnis, Public Health Promotion Manager, at Somerset County Council said: "On 'Time to Talk' Day thousands of individuals and organisations will come together to show that it really is a good time to start talking about mental health, breaking the stigma surrounding it. Come along and support the stand in your local area. Members from the "1 in 4 Tour" will be there at set times during the day for a conversation."
Cllr. Christine Lawrence, Chair of Somerset Health and Wellbeing Board, Somerset County Council said: "Time to Talk Day offers a great opportunity to show that we are committed to ending the stigma and discrimination that surrounds mental health. Our activity will show that talking about mental health doesn't need to be difficult and we can all play a part in getting the conversation started."
Sue Baker, Director of Time to Change, said: "So many lives have been blighted by the stigma that surrounds mental health, and lives have been lost because people don't feel they can talk about their mental health problems and are afraid of getting help. We know that talking openly about mental health can make a real difference so we are asking people to do just that and dedicate just 5 minutes on the 5th February."
For information about Time to Talk Day and how you can get involved please visit http://www.time-to-change.org.uk/timetotalkday
There is also an easy to use 'Five Ways to Wellbeing' app. It offers a practical way to help you feel good and function well in the world. You can download the 'Five Ways to Wellbeing' app for free from the Apple App Store and Google Play.
The '1 in 4 Tour' will be tweeting #1 in 4 on tour.