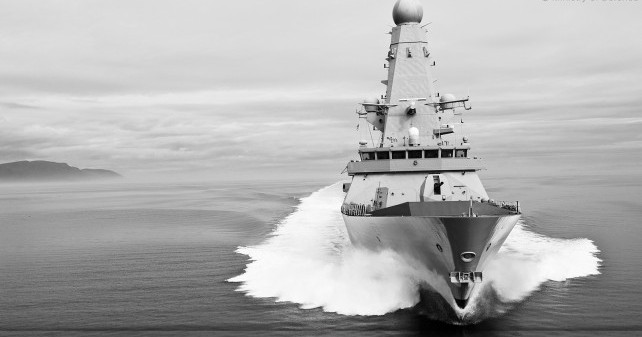 Haynes author Professor Johnathan Gates will be talking at Dillington House in Somerset this Sunday as he reveals the secrets behind the Navy's most advanced warship.
Type 45 Destroyers, also known as the 'Daring Class' Destroyers, are part of the backbone of the Royal Navy, committed around the world 365 days a year defending the Fleet from air attack, hunting pirates, drug runners or submarines, and providing humanitarian aid after natural disasters.
Professor Gates' new manual, Type 45 Destroyer Manual, reveals unique insight into operating and maintaining the most powerful air defence destroyer and largest general-purpose surface warship to join the Royal Navy since the Second World War cruisers.
Their primary mission is to shield the Fleet from air attack using Sea Viper system whose missiles can destroy distant threats the size of a cricket ball travelling at three times the speed of sound.
An officially licensed Royal Navy product, the Type 45 Destroyer Owners' Workshop Manual, describes the vessel's development, trials and entry into Royal Navy service; the anatomy of the vessel; its propulsion system; radar, command and control, missile and weapons systems as well as how the ship is operated at sea.
Jonathan Gates, who was on the design team for the Type 45, says: "Developing the most potent warships ever built for the Royal Navy was always expected to be a challenge because of the advanced technology and high degree of innovation that would be necessary. The requirement was for a versatile destroyer capable of contributing to worldwide maritime and joint operations in multi-threat environments, providing a specialist anti-air warfare (AAW) capability.
"The six destroyers are now recognised as the most capable AAW vessels in the world and they will certainly form the mainstay of the RN's fleet for the next three decades.
"It has been a wonderful opportunity to record how this development was accomplished, explain its advanced technology and describe the formidable and intricate warship that was produced".
The manual is fully illustrated with new cutaways as well as hundreds of photographs, diagrams and technical drawings many of which were commissioned especially for this publication.
The talk will take place at 14:30-16:00 on Sunday 15 February at Dillington House, Ilminster, Somerset.
Ticket includes tea and cake.