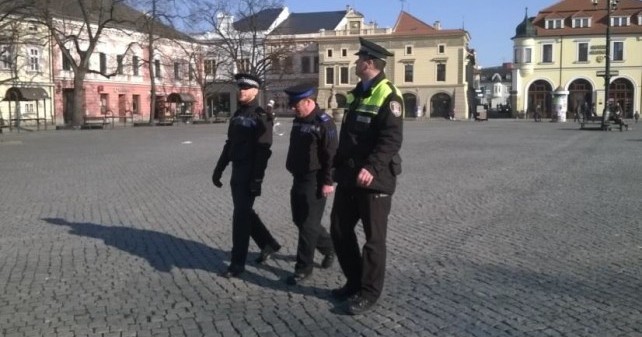 Two officers from Bridgwater have returned from a successful exchange trip with the Uherske Hradiste Town Police.
PC Dominic Bryant and PCSO Mike Shaw represented the force on a trip designed to share best practice and to build relationships with Avon and Somerset's colleagues in the Czech Republic. Uherske Hradiste is twinned with Bridgwater.
After much planning, the officers flew from Bristol to Prague on Thursday 12 February 2015. A translator, provided by the UH Council joined the team to aid communication.
The trip was packed with opportunities to gain an understanding of how the Czech Police operate, including:
A morning in police uniform patrolling with the town police (Mestska Policie), and viewing their CCTV.
Accompanying the State police officers with speed and road traffic operations.
Patrolling areas of concern such as abandoned warehouses, supermarket complexes and railway sidings.
Demonstration of weapons used by state and town police.
A visit to the Police HQ.
Inspector Andrew Pritchard said:
"Working with international colleagues is a great opportunity to share ideas and best practice on how we police. I am delighted the trip has been a success and we are looking forward to hosting colleagues from the Uherske Hradiste Town Police later in the year.
The Bridgwater officers gave a presentation to a large group of Czech police officers to share how they police here in the UK. This was well received.
PC Dom Bryant said:
"It was a real privilege to meet our colleagues in Uherske Hradiste and to spend time with them out in their community. We have come back with a greater understanding on how they police and we hope to give them a similar experience on their return visit."
Before leaving on Tuesday 17 February Avon and Somerset's officers presented the Czech chief of Police with a Custodian helmet and a PCSO hat. They received two town police hats in return.
Officers from the Czech Police are scheduled for a return visit to Bridgwater around November this year. Avon and Somerset Police are working on a package to give them a fascinating experience.