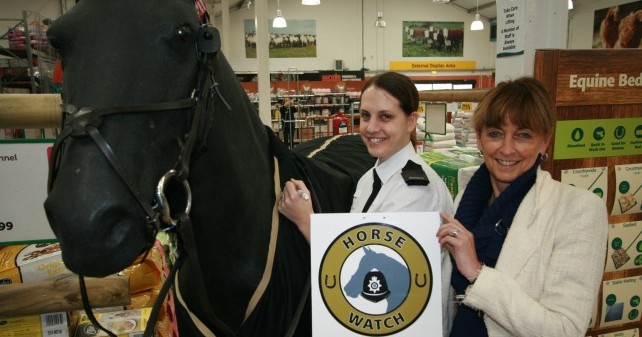 Several events were held around the Avon and Somerset force area last week for the official launch of Horse Watch.
The scheme has been running in the North Somerset area since 2006, but now it is force-wide.
Another 56 members have been signed up during last week's launch events, taking the total to about 1,300.
It works in a similar fashion to a neighbourhood watch with crime prevention advice and intelligence about suspicious activities being shared with members.
There is also a Facebook page for members and non-members to stay informed about events and other Horse Watch activities.
The Horse Watch scheme also provides security marking for saddles and other pieces of tack for members and non-members, and during the launch events we marked 38 items.
The launch was given the backing of Sue Mountstevens, the Police and Crime Commissioner.
Mrs Mountstevens said:
"Horse Watch is yet another example of the constabulary working with the rural community. Everyone has a part to play in making life difficult for criminals, so I'm delighted with the increasing number of people who are joining Horse Watch so they can help protect their own and each other's horses, saddles and other riding gear."
The Rural Crime Team's lead on Horse Watch, PC Katy Drabble said: "Riding horses is a hugely popular pastime across Avon and Somerset, and so our work in Horse Watch is important in helping to prevent riders from becoming victims of crime and also cooperating to catch offenders."