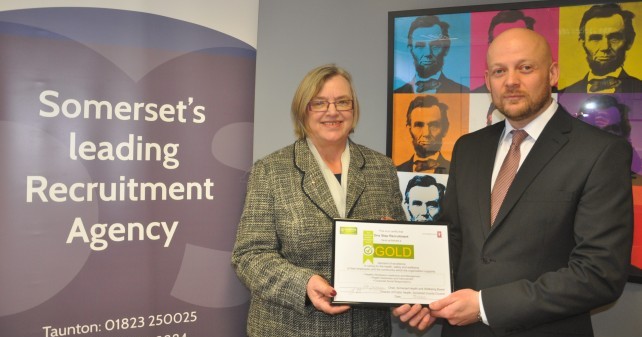 One Step Recruitment has achieved GOLD level in the Somerset Healthy Workplace Award, as well as achieving Excellence in the National Wellbeing Charter.
The award is run by Somerset County Council to encourage and help employers provide healthy workplaces and support employee health and wellbeing.
The team, based in Taunton, achieved the Somerset Healthy Workplace Award Gold standard by completing three categories; Healthy Workplace Leadership and Management, Health Awareness and Improvement and also a section on Corporate Responsibility. They also achieved the National Charter by demonstrating an excellent standard of commitment to employee health and wellbeing.
Chris Kimmins, Operations Manager at One Step Recruitment said:
"I am very proud that One Step Recruitment has achieved both the national charter and the GOLD Somerset Healthy Workplace Award. All the free advice and guidance received as you work towards the award is tailored to the particular needs of the company concerned. We personally worked on healthy eating, spotting and dealing with employee stress, losing weight, keeping fit and took part in many challenges and exercises as a team. The Health Champion Training was also excellent.
"As a result of completing the Gold award we have helped our staff stop smoking, survive boot camp and find exciting new ways to keep fit whilst having fun. We have also just entered a team of people for the Bristol 10k business team run. On top of improving our health and wellbeing the award has been great for team building and establishing good relationships."
Cllr. Christine Lawrence, Chair of the Somerset Health and Wellbeing Board at Somerset County Council said:
"If a workplace is healthy everyone works better. That's why Somerset County Council decided to create this award and I urge businesses to look at what it can do for them and their employees."
Elaine Harris, Healthy Workplace Manager at Somerset County Council, said:
"When employers look after the health and wellbeing of their staff, the business will benefit in many ways such as reducing absence costs, improving work performance, quality and better customer care."
Somerset businesses are encouraged to show their commitment to staff health and wellbeing by applying for the Somerset Healthy Workplace Award. The award shows that the business has achieved a high standard of caring for the health and wellbeing of employees.
The award scheme is completely free for companies of any size and from any sector to take part. There is an initial assessment to find out what training and assistance would suit the company best, professional help and guidance along the way and online resources to support the personalised training.
Please contact Matthew Hibbert, Public Health Specialist at Somerset County Council to find out more about how the Healthy Workplace Award scheme can help your staff in Somerset and visit www.healthyworkplaces.co.uk for advice and information.
For more information, contact the Press Office, on 01823 355020 or email: pressoffice@somerset.gov.uk