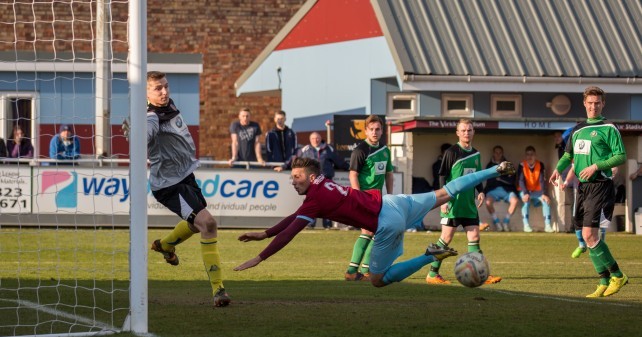 Taunton Town gained one of the three Evo-Stik League wins they required to secure a play-off place when they beat Bishops Cleeve 1-0 at the Viridor Stadium yesterday afternoon (Saturday 21 March).
A first half Rodney Marsh penalty proved the difference between the sides in a very poor game which never settled into any real pattern.
A low key opening witnessed little action until a long Graham Mercieca throw was parried on by Aaron Ward-Baptiste to Marsh whose snapshot was palmed onto the roof of the net by visiting keeper Harry Reynolds.
Cleeve's Robert Reid fired the wrong side of the post following a John Dodd corner before the Peacocks broke the deadlock on 23 minutes.
Ben Carter's looping pass reached Craig Herrod on the left who was tripped by Reid as he glided past him.
Marsh assumed penalty duties to just beat Reynolds' dive and find the corner.
Ward-Baptiste's blocked shot fell to Carter whose follow-up left footed effort was clutched by Reynolds who then held a Steve Kingdon header from a Jamie Short corner but Town could never relax against their lowly opponents, Jack Watts cutting the ball back from the byeline to find Ed Major who steered wide of the post.
The spectacle was equally as grim for the Ladies Day crowd after the interval with neither side able to construct much of quality.
Jamie Price's header flew just wide from Carter's corner whilst Herrod's shot lacked power and Short was unable to direct sub Steve Murray's cross on target as the home side attempted to extend their lead but whilst there was only one goal in it the Mitres were always in with a shout.
Kingdon's clearance landed for Watts to try his luck with Irish holding the shot down at his near post and then the Peacocks keeper had to touch over a drive from Dodd.
Taunton Town had another flurry, Price just failing to connect with Carter's free kick (pictured) and Short firing the wrong side of the post after breaking into the box whilst Lamar Powell, on his home debut, appeared to be caught by Reynolds inside the area yet was rewarded with a yellow card for alleged diving.
It took another good save from Irish, holding Matt Magee's shot at full stretch, to preserve victory for Town who know that at this stage points are more important than performance but whilst also realising that they can and will have to raise their game for the potential challenges ahead.
Manager Leigh Robinson said:
"At this time of year and in our situation winning is the only thing that matters and I'm happy that we were able to do that but there's no denying that today was a dreadful game of football.
The pitch was hard and bobbly and that added to the matchballs that the league provide us with which resemble rugby balls more than footballs made passing and certainly running with the ball almost impossible.
It was laughable at times. We struggled to get into any sort of rhythm and found it a very frustrating afternoon but winning is everything right now so whilst it wasn't enjoyable in the slightest we can say job done for today and move on."