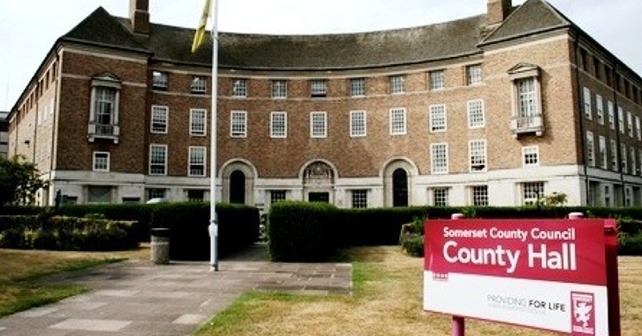 Ofsted have branded Somerset County Council's Children's Services department as inadequate this morning (Friday 27 March).
Although highlighting some examples of good practice and progress, the report published today found that not enough improvement has been made since the Inadequate inspection report in June 2013. It concludes that the Council's 'Services for children in need of help and protection, children looked after and care leavers' are Inadequate.
The report's overall judgement states:
"There are widespread or serious failures which cause children to be harmed or at risk of harm and in the delivery of services for looked after children and care leavers which result in their welfare not being safeguarded and promoted.
Leaders and managers have not been able to demonstrate sufficient understanding of failures and have been ineffective in prioritising, challenging and making improvements.
It is Ofsted's expectation that, as a minimum, all children and young people receive good help, care and protection."
The report adds:
"There has been a corporate failure to keep children safe in Somerset.
The continual churn in the senior leadership team over the last ten years, including eight different Directors of Children's Services, has inhibited the development of the service, severely restricted the local authority's progress and, as a consequence, is seriously affecting the quality of services to children and families."
Somerset County Council said it "restates its commitment to improve Children's Services following today's inadequate judgement from Ofsted."
"We fully accept the key findings of this Ofsted inspection and the short-comings it highlights," said Julian Wooster, Director of Children's Services. "Services are not good enough and improvements need to be made quickly and I am here to help make that happen."
This is Somerset's first inspection under Ofsted's new single inspection framework introduced in 2014. Although it cannot therefore be directly compared to the previous inspection report, it is an indication of how the Council's Children's Services are performing now. It is concerned with the day-to-day operations of the service and does not comment on policy or funding.
"Accepting all the criticism in this report, we must also look at the positives," said Mr Wooster who took up his post two weeks ago. "There are examples of good practice, signs that we are starting to turn a corner. We are building on those signs of improvement but it has to happen faster."
Patrick Flaherty, Chief Executive of the Council, added:
"The report highlights a need for stability and our appointment of a permanent Director of Children's Services is a big step forward – Julian and his team have the undivided support of this Council. Inspectors have confidence that the current senior leadership team knows what needs to be done.
"It also emphasises the need for better partnership working and we will continue to focus on that through the Improvement Board and Somerset's Local Safeguarding Children Board."
The full report can be found on the Ofsted website www.ofsted.gov.uk/local-authorities/somerset Its summary of findings refers to a 'continual churn' in senior leadership, insufficient oversight, high levels of locum staff; and partners not fully committed to the protection of children – all having an effect on services.
The report also highlights successes in fostering and adoption, examples of improved case work, determined staff, improved working with children with disabilities, a successful troubled families programme, and good information sharing between partners in the recently established Multi Agency Safeguarding Hub.
The Council has also welcomed a decision by the Minister for Children and Families, Edward Timpson, to appoint advisors to oversee the Council's response to the report. The team from Essex County Council will work closely with Somerset, assessing it plans, capacity and capability to improve, and report back to the Minister.
Mr Wooster said:
"It's a difficult time for Children's Services and our partners in Somerset but we are not alone – few authorities don't have improvements to make. Our social workers do a very difficult job and much of my focus will be on supporting and developing them, while challenging them to improve.
"Productive partnership working will be another immediate priority. Protecting children is everybody's responsibility. The council is pivotal but there are many agencies involved and we all need to be performing well and working closely together.
"Children deserve better, the inspectors demand better and we, the County Council and our partners, are all committed to safeguarding and improving outcomes for children in Somerset."
The Somerset Safeguarding Children Board (LSCB) has also been reviewed by Ofsted and found to be inadequate. Independent of the Council, the board consists of representatives from a range of organisations including the local authority, Police and health organisations and its role is to hold agencies to account for their safeguarding arrangements and highlight areas that need improvement.
Inspectors identified a number of strengths and improvements in the LSCB. However, they also found that the scrutiny and assurance arrangements were not sufficiently holding partners to account and that early help arrangements and the child sexual exploitation strategy were not yet having sufficient impact.
Sally Halls, independent chair of the LSCB, said:
"While I am pleased Ofsted has recognised a number of areas where the LSCB has done good work, there is also a great deal that it can and should do better.
"More productive partnership working is essential and I am already working with the new Director of Children's Services and LSCB partners to implement an improvement plan which will help the board challenge and ensure the effectiveness of local services for children.
"The children of Somerset have a right to the best quality services and we must not rest until we have achieved that across the entire LSCB partnership, for all children."