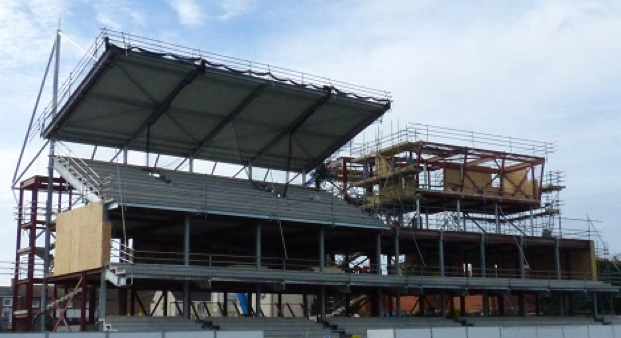 The building of the new Somerset Pavilion is progressing well and anyone visiting the County Ground for the first time since the end of the 2014 season will be amazed by what they see at the St James' Street end.
Certainly Sean Johnson, the site foreman for contractors R G Spiller of Chard is very pleased with the way that the work is progressing:
"Things are coming on pretty well as far as we are concerned," he said. "Now we have the canopy roof in place and are starting on the roof of the media centre, so we are moving along well.
"The section panels are going on well and so is the brick laying where the lower levels have been formed. We have concluded the lower concourse including the toilets and will soon have completed the ground floor. We can then increase our resources and move onto the first floor."
The new temporary press box is in place and much of the car park that was in use for the initial building stages has been resurfaced and is back in use.
Sean went on:
"We have now handed back the car park to the Club as we said we would so that they can make use of that space again. The terrace units are now in, which is one of the big risk elements out of the way, so we are still pretty much on programme 26 weeks in, so its all looking quite promising.
"The weather has been quite good to us this winter and now we are coming to the time where we have to interface with the cricket season."
The site foreman has been boosted by news from the players about which he said:
"The Somerset Pavilion seems to have been warmly received by all of the players that we have spoken to which is good to hear from our point of view."
He added:
"Everything is looking pretty good at the moment from my point of view. In fact there are no minuses at all, which is great to be able to say."