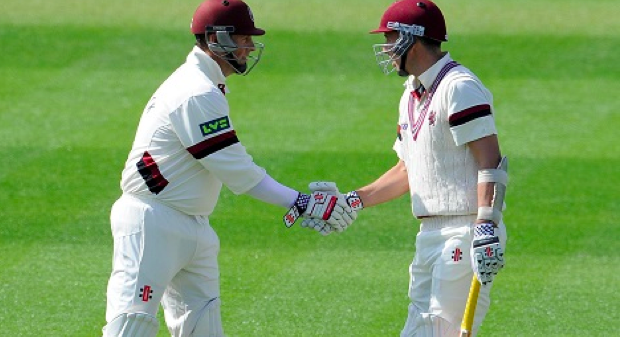 Centuries from Marcus Trescothick and Tom Cooper and a half century from Jim Allenby ensured that Somerset batted throughout the final day of their final pre-season game against Lancashire which ended in a draw at the County Ground today (Thursday 9 April).
Afterwards Trescothick said:
"It turned out to be a very good pitch and the game was exactly what we needed. We would have liked to have batted better on day one after being two down at lunch, but they came back hard at us afterwards.
"All in all however it has been a good run out and we got a good amount of time out on the grass under our belts in the field and then we had some decent runs on the final day.
"Tom Cooper has looked really good and has come out and played positively from the off and then backed it up with a century today, which was just what we wanted to see.
"He had a little bit of a rest coming back from Australia but now he is into it here for us and away we go. Pretty much everybody has had a little bit of time at the crease and can make the most of it come the first game."
Regarding his own performance with the bat Trescothick said:
"You are always wanting to score a hundred early on after the time you spend inside during the winter. It hasn't been easy and I had to work hard at it all the way through but it was nice to get a few runs."
At the start of the day Somerset, who began needing 291 runs to make their visitors bat again knew that they had to bat all day long.
Trescothick and Johann Myburgh started the day in brilliant sunshine and after a slowish start both started to play their shots.
Myburgh saw up the 50 with a 2 off Kyle Jarvis in the 11th over, but three deliveries later was out LBW for 22.
Cooper joined Trescothick who was already in full flow, and the right hander quickly got into his stride.
Two for Cooper to wide cover saw up the Somerset 100 off the last ball of the 24th over.
Three balls later the captain went to his half century with a boundary off Luis Reece, his runs coming off 67 balls with 11 fours.
By the interval Somerset had reached 123 for 1 off 29 overs, Trescothick had moved onto 64 and Cooper was not out 30.
The second wicket pair continued to prosper after lunch and with the total on 178 Trescothick duly went to his century which came off 126 balls and included 19 fours and a six.
Very shortly afterwards Cooper saw up his 50 which came off 85 balls with eight fours and a six.
With the total on 185 and his own score on 107 Trescothick retired and Jim Allenby joined Cooper at the wicket.
The pair enjoyed themselves in the sunshine and with the Somerset total on 260 Cooper went to his century which came off 123 balls and included 14 fours and two 6s.
Cooper then retired and Alex Barrow joined Allenby, who went to his own half century before he retired his runs coming off 64 balls and included eight 4s.
Barrow was joined by Trego and the two remained together until the players shook hands at 4.50pm by which time Somerset the score had moved onto 344 off 73 overs, Trego remaining unbeaten on 28 and Barrow not out 22.