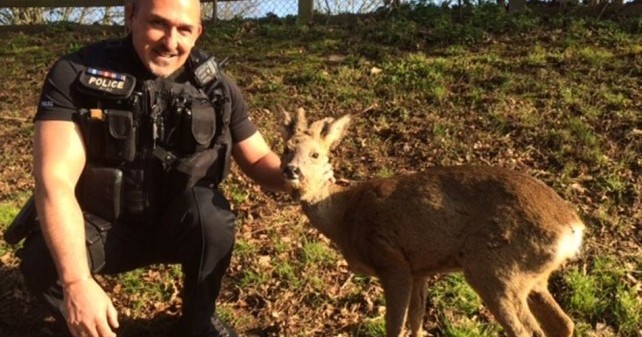 Officers from Avon and Somerset Police rescued a young deer which has been nursed to back to health and released by Secret World Wildlife Rescue.
Last week a member of the public called police with concerns for a young deer that appeared to be badly injured and in a distressed state at the side of a road in Churchill.
When officers arrived, they discovered it needed some TLC and alerted Secret World Wildlife Rescue who arranged for a Volunteer to bring the animal to their centre, where they have a dedicated deer unit.
PC Rob Browne said:
"When we arrived at the scene, the animal seemed shaken and distressed. We were delighted to see that he wasn't as badly hurt as we had first feared. We wanted to ensure that he was well looked after so our Control Room contacted Secret World. I'm pleased to hear that he has since made a full recovery and has been safely returned to the wild where he belongs."
Graeme Thompson, Volunteer Rescuer for Secret World said:
"The young male roe deer appeared to be in shock, possibly after being struck by a vehicle, which can cause temporary blindness. They are very sensitive animals and have a delicate temperament. Secret World nursed it back to full health and we released him on Tuesday (14/04).
"My wife, Vicki, and I have volunteered with Secret World since we retired as teachers in 2004. Vicki volunteers one a day week in the animal hospital, helping small mammals and we foster baby animals – like wild rabbits and hedgehogs – at home.
"Members of the public are very important when it comes to a successful rescue. It's all about teamwork."
Jess Crabtree, Rescue Section Leader at Secret World, said
"We rely on members of the public to call us about injured wild animals, like this deer, so we can respond quickly and help them make a full recovery.
If you find an injured wild animal, call us on 01278 783 250. With our network of Secret World Response Drivers (SWRDs) like Graeme, we can get animals in for treatment as quickly as possible.
If you'd like to volunteer as an SWRD we'd love to hear from you!"