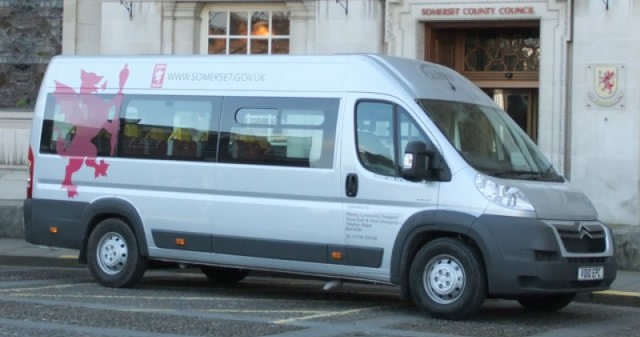 A new look Slinky bus service is being launched across Somerset next month to serve and benefit more eligible residents across the county.
From late May 2015, Somerset County Council's Slinky bus service will serve specific parts of Somerset's districts on set days of the week, rather than working on a 'first come, first served' basis. By structuring the service in this way – still operating a personal, door-to-door transport service – the authority aims to reach more eligible residents.
As before, Somerset residents will be eligible to use the new service if:
• They do not have their own transport
• They do not have access to a regular public bus service they can use
• They have a disability which prevents them from accessing a public bus.
Existing and new users of the Slinky service will have to register before using the new service for the first time by phoning their local booking office or Transporting Somerset on 0300 123 2224.
A Somerset County Council spokesperson said:
"Our changes to the service mean the Slinky will now be able to serve more people than before.
"Previously the Slinky bus service operated on a first come, first served basis. With only two Slinky buses usually available in each of the county's five districts, however, operating in this way has meant the Slinky bus has been unavailable for many other residents wishing to use the service.
"The Slinky service is for everyone who is eligible, of any age – whether you're studying, a parent, disabled or hold a concessionary bus pass – so why not see how the Slinky could work for you?"
As part and parcel of the renewed service, the Slinky vehicles are being equipped with new, electronic ticket machines. The ticket machines will help provide SCC with more detailed travel information which will help the service improve in future.
To find out more about Somerset County Council's new Slinky bus service, and for information on the separate community transport schemes also on offer across Somerset's districts, visit movingsomersetforward.co.uk