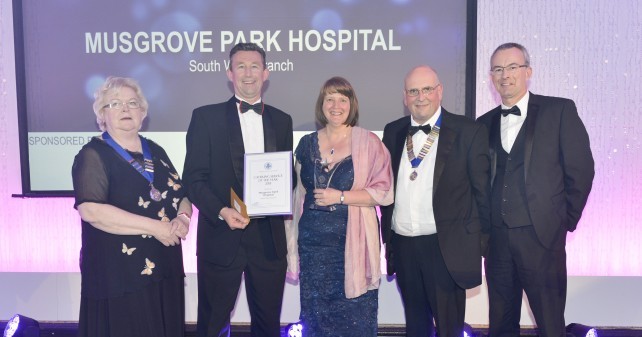 Musgrove Park Hospital has fought off stiff competition from eight other hospitals across the country to win the highly acclaimed Catering Service of the Year Award 2015.
The award was announced last Thursday (16 April) at the Hospital Caterers Association (HCA) President's dinner in Glasgow.
The HCA National Awards 2015 were set up to recognise the NHS' worthiest caterers, who are rising above the tough financial challenges faced by the NHS and providing a service that goes above and beyond the day-to-day catering requirements to enhance patient experience and support the healing work of the medical teams with healthy, nutritious food.
In order to be recognised for this award the catering team at Musgrove Park Hospital were required to submit an application form and covering letter with extensive supporting evidence informing the judging panel about the size of the hospital, the type of patient food provided, costings, percentage of food waste as well as overall patient satisfaction levels with regards to catering.
Three hospitals were then shortlisted and an on-site inspection was carried out by the judges to help them chose their winner.
Carol Dight, director of nursing and governance, said:
"Winning the Catering Service of the Year Award is a truly amazing achievement which absolutely puts Musgrove on the map in terms of catering services for our patients.
The teams have demonstrated that food is an integral part of the care that we give our patients.  I am incredibly proud of the dieticians, catering staff, kitchen team and ordering team at Musgrove Park Hospital for this national recognition, and I look forward to celebrating their success with them."
The HCA awards were designed to honour those who deserve special recognition and celebration of their outstanding effort, either individually or as part of a team, and it's fantastic that Musgrove Park Hospital has been highlighted for its catering success.