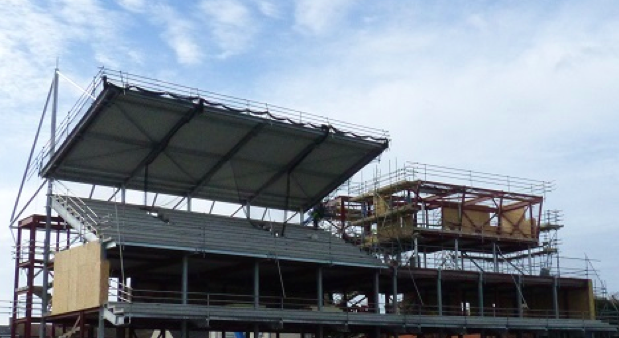 Many supporters paid their first visit of the season to the County Ground recently to watch Somerset's opening LV= County Championship match against Durham.
One thing that will most certainly have struck them is the progress that has been made with the building of the new Somerset Pavilion at the St James Street end of the ground.
For the very latest on the progress of the new build Sean Johnson, the site foreman for Chard based R G Spiller who are the main contractors said:
"Things are still going well. The weather has also been very kind to us and we are on schedule for where we should be. The block work is progressing well internally and although there are a few bits and pieces to pick up on the ground floor we are now working on the first floor.
"This week the mechanical and electrical people will be coming in and getting underway. Hopefully we will also start putting some cladding around up on the media centre. Things are really starting to take shape as people who came down for the first game could see."
Talking about how things had gone during the Durham game the site foreman said:
"We had our first experience of working while a real live game of cricket was going on and the view from all the floors of the Somerset Pavilion was brilliant."
How has Sean found it coping with Somerset playing at home?
"We spoke to the security guys on the gates to inform them of any deliveries and we also talked to the Club to let them know what was happening," he said.
"We were also very mindful of the areas of work that we could undertake that would lessen the impact of our presence. I think that it has proved that we can work in tandem, which is good news because there is a lot of cricket at the County Ground this summer."
Sean has also been impressed with the attitude of everybody who is working on the site.
"What has been really good from our point of view is that everybody who is working on the site has bought into what we are trying to achieve and there is a real sense of pride that we are building something that will be a feature at the County Ground for many years to come."
Sean added:
"This will be a great flagship for the company when it is finished and a great asset to the cricket club as well, which is really what it is all about."