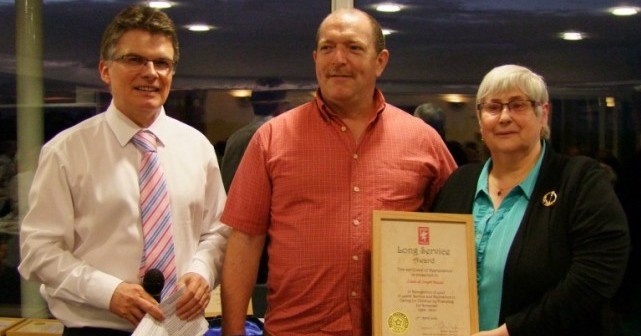 The fantastic work and dedication of local foster carers has been recognised at an awards event this month.
Over 130 foster carers attended the awards ceremony held on Friday 17 April with six foster carers presented with long service awards, collectively giving 110 years to help improve the lives of children and young people in Somerset.
Susan and Stephen Bellringer from Wellington are mainstream foster carers who received their award for 35 years service, in which time they have fostered around 250 children.
Susan said: "It is really lovely to be here with all the other carers to receive our award. We enjoy fostering. We enjoy meeting the children and doing our little bit to help them."
Linda and Stuart Buzza from Taunton are emergency foster carers and received an award for 15 years service.
Linda said: "It is brilliant that we've done 15 years and it is nice to collect the award and be recognised for the work we have done."
A Spokesperson for Somerset County Council, said:
"The awards night is a chance to celebrate and recognise the work our foster carers do day in, day out to support children and young people in care.
Foster carers are the backbone to our Children's Services and we owe them great gratitude for the support they offer children and young people who need stability, security, guidance, encouragement and love.
"We always need more foster carers and we particularly need more carers for children over the age of 10. Fostering older children can be very rewarding and we pay foster carers a weekly fee on top of an allowance in recognition of their commitment to our children and young people."
To become a foster carer people need to have a spare room in their home, a commitment to help a child, patience and a willingness to learn. People from all walks of life can apply to foster. It doesn't matter if they are single, married or in a same sex relationship, own or rent their home, have children of their own or not.
And there are lots of different types of fostering, which means people can choose how much time and energy they can offer a child and what suits their circumstances best.
To find out more about fostering with Somerset County Council, visit: www.fosteradoptsomerset.org.uk or phone 0800 587 9900.
Follow Fostering in Somerset on Facebook and twitter @fostersomerset.