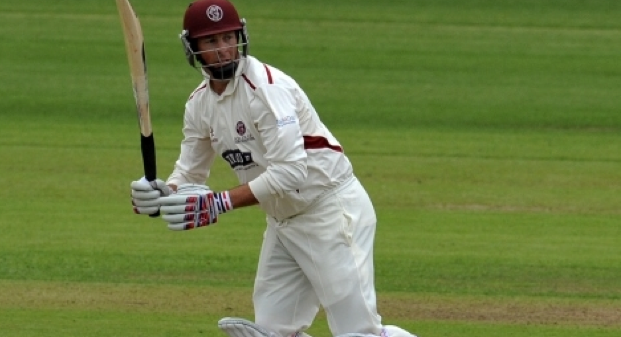 Big hundreds from Marcus Trescothick and James Hildreth put Somerset into a commanding position on the opening day of their LV=Championship yesterday (Sunday 26 April), before they lost their last seven wickets cheaply and were all out for 408 in reply to which Middlesex had reached 10 without loss by the close.
Trescothick was in vintage form as he made 140 as was Hildreth who hit 187, the pair adding 261 together a new record partnership for Somerset against Middlesex.
However from 377 for three Somerset would have hoped to go on towards a bigger score instead of which sadly they lost their last seven wickets for 31 runs.
At the end of the day Trescothick who earlier had scored his 42nd century for Somerset said:
"Its always nice to get going, get on a good pitch and score some runs. The pitches here are pretty good and we are a pretty positive team and look to push it on."
"Today was a good day for us we played and missed a few times and got lucky – we both got dropped but we are both naturally aggressive players and wanted to keep the scoreboard moving."
Hildreth said:
"We scored quite quickly and they served up some balls that allowed us to do that as well as bowling some good ones so I'm quite pleased with how I played.
"It's a good wicket and similar to the last one in that it offers everyone something. If you get in there is the opportunity to score quickly and get big runs but if the seamers put it in the right place there is something for them, and it swung continuously through the day, which is encouraging for us going forward, and there was spin as well. All in all its been a pretty good wicket and will carry on like that for the rest of the game."
"There are elements of frustration having been put in because from that partnership we had you want to kick on and get that big score and only bat once and get them batting last and hopefully it spins more.
"However we go into every game with the target of trying to get maximum batting points so we are quite pleased that we have got to 400 in the second game of the season- but you always want more runs and you want to win a game as best as you can and we would have wanted to get 500 plus and then bowl them out twice on a wicket that spins a bit.
Hildreth added: "We have mixed emotions at the moment but when we reflect we will be happy with where we are."
After being put into bat Trescothick and Tom Abell saw up the 50 but soon after Abell was bowled by Tim Murtagh for 16 offering no shot.
New batsman Tom Cooper was leg before wicket to James Harris for no score with the score on 51.
Hildreth and Trescothick initially steadied the situation and then both went for their shots.Consecutive boundaries off James Franklin saw the captain bring up his 50 off 74 balls with 11 fours.
Next over a Hildreth boundary to backward point brought up the 100. The two continued to flourish and by lunch Somerset had reached 148 for 2.
First ball after the interval Hildreth hit a four off Murtagh to see up the 150, soon after which the batsman was missed at square leg on 49.
Hildreth duly went to his 50 with a single off Steve Finn whilst at the other end Trescothick was edging towards his century.
A swept two off Ollie Rayner in the 43rd over saw Trescothick to his century which came off 129 balls and included 19 fours and a six.
Hildreth took his runs in his usual attacking fashion and went to his century in the 53rd over with two off James Harris to square leg, his runs coming from 119 balls and including 14 fours and two 6s.
Trescothick drove Rayner to the cover boundary to see up the 300 but in the 62nd over he was caught at mid wicket by Harris off Adam Voges for 140 which made Somerset 312 for three.
The partnership of 261 was a new record for any wicket for Somerset against Middlesex beating the previous of 253 set by Trescothick and Jamie Cox in 199.
By tea Somerset were 317 for 3 off 65 overs, Hildreth had moved onto 132 while Jim Allenby was still to get off the mark .
Hildreth continued to flourish in the post tea session and in the 74th over he went to 150 with two to cover off Franklin.
Allenby hit a four off Harris to see the 350 up but after moving onto 23 he was caught by 'keeper John Simpson off the same bowler with the score on 377.
Harris struck again in his next over he had Alex Barrow caught by Rayer at second slip for no score. Harris wasn't done yet and accounted for Pete Trego caught by Voges at second slip in his next over.
Hildreth saw up the 400 off the final ball of the 84th over but was out caught at third man by Voges off Harris first ball of the next for 187.
Tim Groenewald was caught by Voges off Finn without scoring with the score on 404 Lewis Gregory had moved onto five when he was caught at mid off from the bowling off Murtagh and when Rehman was caught at point by Compton Somerset were all out for 408.
Harris ended with figures of 18 overs, one maiden five wickets for 83.
In the four overs that remained Middlesex moved onto 10 without loss.