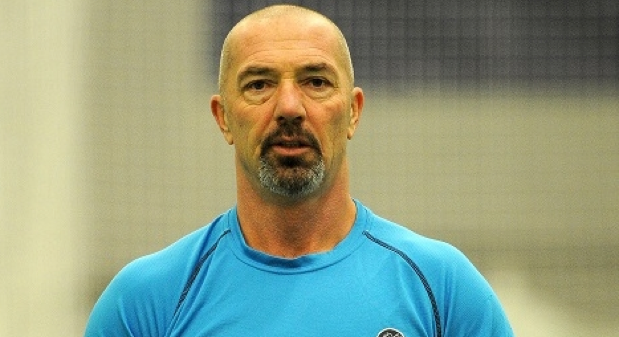 Somerset slipped to their second home defeat in Division One of the LV=Championship when Middlesex scored 405 for five to win with seven balls to spare yesterday (Wednesday 29 April).
Needing 402 for victory, Middlesex went into the final day on 31 without loss and were quickly reduced to 45 for two thanks to Lewis Gregory.
Somerset claimed a further wicket before a fourth wicket partnership of 200 runs in 56 overs between Adam Voges and James Franklin won the game for Middlesex.
Afterwards Marcus Trescothick said:
"Any loss is painful but every now again this game gives you a good kick. We played some good cricket for four days and put ourselves in a position to win a game. They came along and played as well as they did and to chase down 400 on the final day was a good effort.
"The pitch has been good here for two games, but if we can get a bit more spin and a bit more life out of it on day four to assist our bowlers then that's something we can take into our next game.
Matt Maynard said:
"We have performed a lot better in this game but not well enough to get over the line. Going into the afternoon session I thought that we were in front but we didn't get a wicket and that turned out to be a big session and they had a big partnership between Voges and Franklin.
"That was probably the clincher and had we managed to separate them it could have been a different result.
Regarding the loss of Jamie Overton the DOC said:
"Losing Jamie Overton didn't help because he would have been able to come in with those spells he showed in both this game and the first match that can change the course of the match.
"Unfortunately he picked up an injury that didn't allow him to participate today.Jamie will need an MRI scan and we will get more details of that.
"Having said that it's great to see Marcus playing so freely and positively and showing so much skill."
"We are gutted to have lost this match but our performance was better than in the previous game and as a coach I can pick up more positives than the players can. Middlesex won the last two sessions and won the game."
Matt added:
"We couldn't have asked for anymore from the lads today. They were asked to give 100% and they certainly did that. They gave their best today and that is all they can do."
This was the third highest winning run chase ever at the County Ground.
By lunchtime on the final day Middlesex had reached 148 for three off 37 overs still needing 254 runs for victory off 66 overs.
Resuming on 31 without loss Lewis Gregory struck twice early on. With the fifth delivery of his first over he had John Robson caught at second slip by Marcus Trescothick for 15.
New batsman Nick Compton had scored four when in his next over he bowled his former team- mate which made Middlesex 45 for two.
Opener Nick Gubbins steadily accumulated his runs and in the 20th over went to his 50 with a single off Trego into the off side, his half century coming off 64 balls with six 4s and two 6s.
In the next over Gubbins saw up the Middlesex hundred with an off driven boundary off Tim Groenewald.
However the introduction of Abdur Rehman into the attack from the River End on the stroke of noon saw the demise of Gubbins, bowled for 78.
Franklin joined Voges and by lunchtime had taken Middlesex onto 148 for three.
The Middlesex pair continued to progress during the afternoon session and by the tea interval was taken had moved the score onto 280 for three off 71 overs, needing 122 for victory.
In the 46th over Adam Voges, went to his half century with two to square leg off Tim Groenewald which came off 84 balls and included five 4s. The same batsman saw up the 200 when he took four off Groenewald in the 54th.
When James Franklin took four off Trego in the 67th over he brought up his 50 which came off 106 balls with eight 4s.
Voges duly went to his century with two off Cooper in the final over before tea, his runs coming from 163 balls with 10 fours.
By tea Voges was unbeaten on 101 and Franklin not out 57 and the score had moved onto 280 off 71 overs.
Voges saw up the Middlesex 300 with a boundary to fine leg off Rehman but after taking his score onto 132 he was caught by wicket-keeper Alex Barrow looking to drive Tim Groenewald.
Franklin went to his century in the 98th over when he drove Rehman to the cover boundary his runs coming off 210 balls with 13 fours.
New batsman Neil Dexter had moved onto 11 when with the score on 381 he was bowled by Rehman which brought John Simpson to join Franklin.
Franklin wasted little time in chasing the few runs that were required and two boundaries off Rehman in the 102nd over saw Middlesex to victory with seven balls to spare.
Franklin ended unbeaten on 115 and Simpson 18 not out.
Middlesex take 22 points from this game while Somerset take eight.