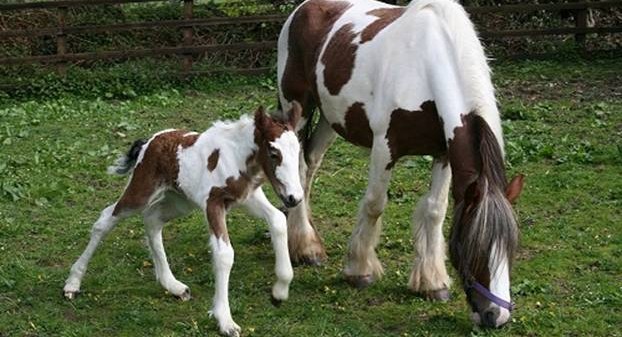 Sydney, a five year old cob who was seized by a local authority after being abandoned with 14 other horses, has recently given birth at Ferne Animal Sanctuary near Chard to a baby girl. Both Sydney and her daughter are in good health and the little foal is now up and about and feeding well.
The Sanctuary is now inviting the public to help them find a name for the new arrival.
Nikki Haddock, Head of Equine at Ferne Animal Sanctuary said:
"We often keep themes between mums and babies at Ferne. Mum is called Sydney due to the map of Australia you can see on her side, so we would like anyone entering our competition to name her daughter after any city in the world."
Entry is free and open to anyone under 18. The winner will be invited to the Sanctuary with their parents for tea, cake and a VIP tour, which will include seeing the new foal they have named. The winner will also receive a Ferne Animal Sanctuary goody bag and a certificate.
Sharon Pavey, Head of Fundraising and Marketing said:
"Entering this competition couldn't be easier, all you have to do is go to our website www.ferneanimalsanctuary.org and fill in the form. The competition closes at 5pm on Tuesday 19th May 2015."
In about six months time, Sydney and her foal will be looking to find a home together with experienced owners who are fully able to meet the needs of young horses and continue their education.
"We are all thrilled that the little filly has arrived safely and both horses are happy and healthy.
Without the support we get from the public with rehoming and donations, we would not have been able to take Sydney in – which quite probably would have meant she would not have lived to have her baby," concluded Nikki.