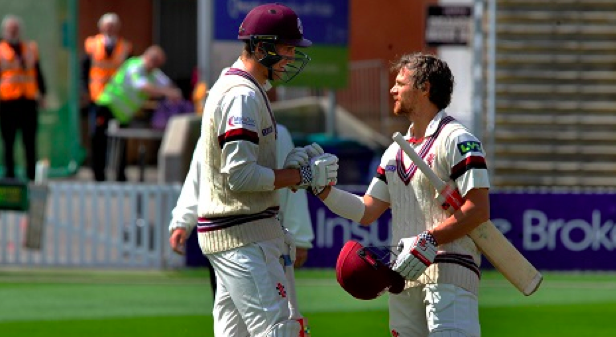 Somerset put up a spirited performance on the final day of their game against New Zealand at the County Ground, where despite James Hildreth's third first class century of the season and some lusty blows from Tim Groenewald's bat the tourists won the match by 66 runs just before lunch.
Resuming on 142 for six still needing 202 for victory, Hildreth made 115 and Groenewald made a hard hit 47 which included five maximums before Somerset were all out for 277.
Talking about his continued run of form centurion Hildreth said:
"I think the secret to giving yourself a chance to scoring runs in these conditions is to give yourself a bit of time early on to see what the ball is doing, but you always know its going to get flatter during the four days."
Regarding his eighth wicket partnership with Craig Overton, Hildy said:
"We had a good partnership before he stood on his stumps which he would have been disappointed about. He did play well and he strikes a good ball and I was pleased for him.
"Craig batted well and so did Tim Groenewald at the end and just showed there are runs down the order, which is great. The rest of us now need to kick on and get runs with them."
Hildy added:
"It's a bittersweet for me because I am getting runs but we are losing games. It doesn't feel like I'm having a great season because the team has now lost four games from four."
For Director of Cricket Matt Maynard this is the fourth defeat his team have suffered since he took over about which he said:
"Its not a great start to my tenure, but you don't get better by doing the same thing. You have got to look at what you are doing, are we doing it right, are we setting the team up and are we getting the most out of our players.
"The clear answer to the last part of that question is no, we aren't getting the best out of our players. However it's nice to see that more players are coming into form.
"At one stage I thought we only had three players in form and eight not in form, which I would say has turned around to five and six now. If we can turn that again and have seven or eight players in form and three that are not having such a good game, then that is how we are going to turn our results round. That will come about from hard work, some time away to think with clear heads."
Matt went on:
"The way Hildy plays he is very clear, very calm and very collected when he goes into bat. The way that Tim Groenewald has bowled in this match was very clear he just hit good areas- its not rocket science, it is a very simple game, but can be very complicated if you want to make it that way.
"The big issue we have had in every game we have played is that we have lost wickets in clusters and that's cost us big time. We have talked about building partnerships and trying to get the batsmen to 30 run partnerships and work together and build on that across the board, not just the lower order who have come good in the last two games.
"The middle order is where our problems have been because after decent starts in the first two championship matches and getting ourselves into a strong position we have failed to capitalize because we have lost those wickets.
Matt added:
"This is something that every side goes through at times, but not generally for an extended period like we have. Its clearly something we need to address and if that does fire and we get that going then we are going to be very dangerous."
The day didn't get off to the best of starts for Somerset when they lost Davey to the second ball of the day when he was LBW to Doug Bracewell without addition to the score.
Craig Overton joined Hildreth, who started the day unbeaten 65 and the latter showed just why he has been in such good form this season when he played a classic cover drive off Wagner.
At the opposite end Overton took two boundaries off the same bowler's next over.
Hildreth hooked Wagner over backward square leg and off the last ball of the 55th over he went to a well deserved century with a four to the mid wicket boundary off Bracewell, his runs coming from 117 balls with 16 fours and one 6.
Next over Overton took four off Wagner to see up the Somerset 200.
The eighth wicket partnership had added 72 when Overton pulled off spinner Mark Craig who was bowling from the River End down to backward square leg and trod on his wicket
This was an unfortunate ending to a promising innings that had yielded 25 runs and helped to see the total onto 214 for eight.
New batsman Groenewald got straight down to business when he drove Craig over long off for six, much to the delight of the crowd.
From the other end Ben Wheeler got the same treatment when Groenewald hit him high over the mid wicket boundary.
The runs required was reducing quickly, but when Hildreth on 115 looked to cut Craig he was caught by wicket-keeper BJ Watling, which made the score 236 for nine.
Hildreth has now scored 640 first class runs for Somerset this season.
Somerset weren't done yet however and in the 64th over Groenewald hit another big six over long off.
With Groenewald in this sort of mood anything was possible as he continued to plunder the New Zealand bowling, taking two sixes off the 66th over bowled by Wheeler.
Along with last man Abdur Rehman he saw Somerset to 277 when he was bowled by Craig looking to drive and the game was all over just before lunchtime with 76 overs remaining.
Craig was the pick of the tourist's attack with five for 34 off 11.5 overs.