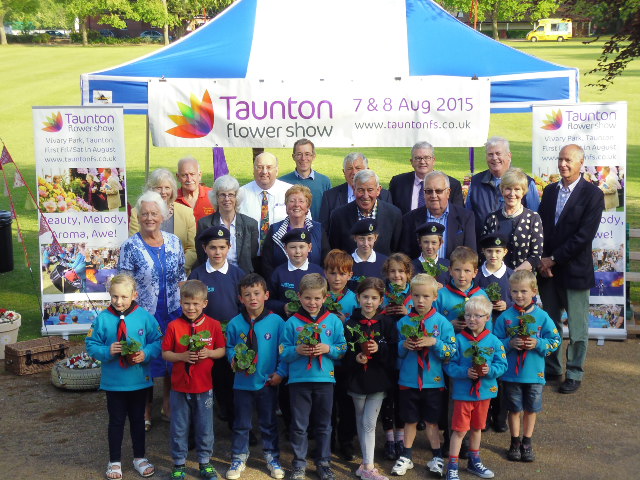 Beauty, Melody, Aroma, Awe for all in the Park this Summer
August 7 & 8th this year sees Britain's oldest, longest running Flower Show return to picturesque Vivary Park in Taunton, for the annual family-friendly extravaganza – with its unique blend of vivid flower displays, breath taking fire stunts, amateur competitions for all ages, stunning show gardens, fantastic music in the festival field, and the finest food in the South West.
Jim Buttress, of the BBC's Allotment Challenge is the special guest at this year's show and announced the line-up at a special launch today (Thursday 21st May) in Vivary Park. He shared with show organisers encouraging young green fingered representatives from Henlade 1st Beaver Scout Colony and Taunton Sea Cadets' Junior section to plant seedlings to grow on and show off in August. Jim will be chairing the TFS Gardeners Question Time event on Friday 7th.
Building on last year's success, the show will again use the neighbouring Wilton Lands – creating a festival feel showcasing great outdoor live music, with Panatical Steel Band and vintage vocalist, Lianne Haynes, alongside their legendary Food Hall, with the most succulent locally produced foods, and rural craft traders demonstrating the vast array of traditional skills.
Audiences will be thrilled by the arena antics of Joseph Peace Fire Stunts cycling bikes through rings of fire unscathed, the return of the much-loved Sheep Show, participating in parachute games and stirred by The City of Exeter Pipes and Drums band.
A dedicated children's activity area will provide opportunities to make pottery and try weaving as well as a fantastic view from a climbing tower whilst others keep their feet firmly on the ground to enjoy the professional children's entertainment.
At the heart of the show are the professional flower displays in the Floral Marquee – where the very best exhibitors compete for prizes. Saturday afternoon sees the traditional plant sell off, when the displays are sold at bargain prices to visitors to take home and enjoy.
Designer Gardens will take centre stage with inspirational ideas for amateurs of all abilities – the range of diversity of garden designs in the small scale plots always create great interest from the horticultural visitors who take away great new ideas for their own home garden.
The Competition Marquee just keeps growing year on year with participants from across the local community aged from 8 to 80 plus, who can register their entries in the wide range of competition classes – horticultural and non-horticultural – up until the Monday before the Show – full details and application form are on line at www.tauntonfs.co.uk
Full information and opportunities to purchase advanced tickets, including becoming one of our closest friends as a member of Taunton Flower Show for the 2015 event, can be found on the Show's website www.tauntonfs.co.uk. Visitors and interested parties can also follow the build up to the show on their facebook page at facebook.com/tauntonfs and read the conversations before and during the show on Twitter @tauntonfs
Invalid Displayed Gallery