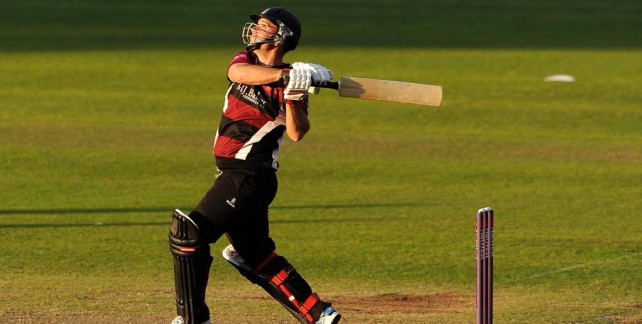 Jim Allenby made 79 as Somerset put up a brave fight but in the end they were beaten by five runs by Sussex Sharks at the County Ground on Friday evening in front of a good sized crowd.
Batting first Sussex posted 175 for six in reply to which Somerset had reached 80 for one before losing five quick wickets to find themselves 96 for six after which although they recovered well they came up just short.
Afterwards Allenby said:
"Its always nice to get off to a good start at a new club. This is a tournament I enjoy and as a club we have some outstanding players so we expect to play well. Unfortunately it wasn't enough today but it was nice to get off to a good start.
"We lost too many wickets in the middle because the start we got off to was great, but then we lost wickets every over or so and against an experienced side like Sussex you just cant do it.
"Sussex are a well drilled side with some international quality and you just can't give them a sniff and they jumped on us and we just couldn't claw it back,"
"It wasn't probably as close as five runs in the end but it doesn't damage our run rate too much which might well count when it comes down to it and it might help get us a home quarter final rather than an away one.'
Jim added: "It was close and we dragged it back and showed a bit of fight at the end but we probably had a little bit too much to do."
After the visitors chose to bat Alfonso Thomas gave Somerset the ideal start when he claimed the in-form Chris Nash LBW with the third ball of the match.
Opener Luke Wright was joined by Mahela Jayawardena and the former survived a chance at deep mid off when he was on 18.
The pair looked comfortable and it was Jaywardena who saw up the 50 off the last ball of the fifth over when he cut a short ball from Lewis Gregory to the square boundary.
The second wicket pair took the total onto 75 when Jayawardena was well caught at third man by Tom Cooper, diving to his right off Jim Allenby for 36.
Wright brought up the Sussex 100 with a six over long on from the bowling of Abdur Rehman and the visitors looked like setting a substantial score.
However when Overton returned at the Somerset Pavilion End he changed the course of the innings . With his second ball he had Wright on 49 caught by Lewis Gregory who sprinted in from deep cover to take the chance low down. Next ball Allenby held onto another spectacular catch at deep point, this time to dismiss Craig Cachopa for 16 and Sussex were 110 for four.
Chris Jordan hit 37 before he was bowled by a quicker ball from Sohail Tanveer and off the final ball of the innings Harry Finch was run out after good fielding by Max Waller as Sussex ended on 175 for six.
Waller bowled his four overs for 20 runs while Jamie Overton took two for 33 off his three.
Allenby opened the innings with Marcus Trescothick and it was the former who indicated the form he was in when he hit Jordan over mid wicket for six in the third over.
With the score on 33 however Trescothick was caught in the deep by Wright off Tymal Mills for 17.
Allenby was joined by Pete Trego and it was the opener who brought up the 50 off the first ball of the sixth over.
The pair had taken the score onto 78 when Trego hit a delivery from Mike Yardy to Jordan at mid wicket for 26. Three balls later James Hildreth was caught by 'keeper Craig Cachopa for 1.
With the score on 87 Tom Cooper on two was LBW to Will Beer as he looked to sweep, and four balls later the same bowler had Tanveer caught by Steffan Piolet.
Beer struck again in the 14th over when he caught and bowled Gregory for 1 and Somerset found themselves 96 for six.
In the same over Allenby took a four off Beer to bring up the Somerset 100 and when the batsman took a single off the first ball of the 15th over, that was bowled by Oliver Robinson he went to his half century which came off 39 balls and included six fours and a 6.
Allenby had been joined by Abdur Rehman and the two stemmed the flow of wickets and started to edge Somerset towards what had looked like an unlikely total.
When the pair took 16 runs off the 17th over Somerset needed 40 off the last three over as the tension mounted.
Rehman brought up the 150 with a boundary off Jordan to cover but the left arm spinner was caught by Nash off the last ball of the over for 24.
The seventh wicket partnership between Allenby and Rehman added 56 off 35 balls.
Six no balls came off the first ball of the last over leaving Somerset needing 16 off five balls. Allenby was run out off the fourth ball, which looked to have put an end to things, but Waller came and hit a six off his first ball to bring the game back to life. Sadly through only one run was possible off the last ball and Somerset ended on 170 for eight.