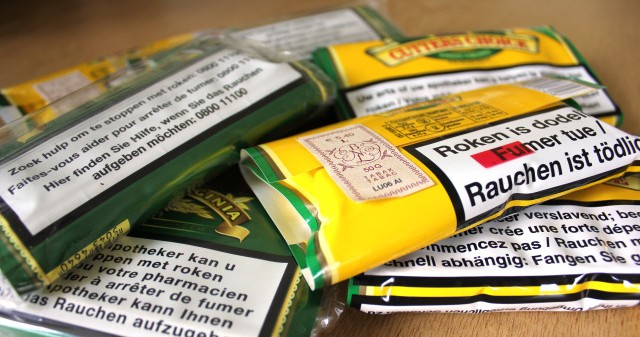 To mark World No Tobacco Day this Sunday (31 May), Public Health and Trading Standards across Devon and Somerset are highlighting their work against the sale of illegal tobacco products in our communities, which is the theme of the day this year.
Illegal tobacco continues to be a major problem in the county, with the majority being offered for sale from private homes and through Facebook.
In total, Trading Standards has seized 64,501 genuine non-duty paid cigarettes over the last year.
Recent operations include a seizure by Devon and Somerset Trading Standards Service of 6kg of counterfeit hand rolling loose tobacco and 13.75 kg of genuine non-duty paid hand rolling tobacco.
In Somerset a multi-agency operation, involving the use of specially-trained sniffer dogs, has resulted in nearly £4,000 worth of illegal cigarettes and tobacco being seized from a Bridgwater off-licence and a sophisticated hidden storage area identified in a Taunton shop.
Designed to crack down on the illegal trade in black market tobacco, Officers from Devon and Somerset Trading Standards, and Avon and Somerset Police, were joined by Scamp, Phoebe and Yoyo, tobacco detection dogs, funded by Smokefree South West, that can sniff out illegal tobacco wherever it is concealed.
Illegal tobacco is known to make it easier for children to start smoking, because it is sold at pocket money prices, which also makes it easier for those looking to quit to carry on smoking.
Illegal tobacco is also known to make communities more attractive to criminals that will use their profits from sales of illegal tobacco to fund other types of crime.
Councillor Anna Groskop, Somerset County Council's Cabinet Member for HR, Transformation and Health and Wellbeing said:
"Congratulations to the whole team for tackling this serious threat to public health and for protecting Somerset's children."
Selling illegal tobacco is a criminal offence. Anyone can report the selling of illegal tobacco by contacting on the Citizens Advice Consumer Helpline on 03454 040506 who will report the matter to Trading Standards, reporting it anonymously online at http://www.stop-illegal-tobacco.co.uk or calling the charity Crimestoppers anonymously on 0800 555 111. They cannot trace your call and will never ask for your name.
Councillor David Hall, Somerset County Council's Cabinet Member with responsibility for Devon and Somerset Trading Standards Service, said:
"Illegal tobacco can sometimes be hard to spot, but if you come across anyone selling tobacco products, there could be some strong indications the product is illegal.
"If the price seems too good to be true, it probably is – illegal tobacco is often half the price of legal tobacco. There could also be tell tale signs such as a missing "UK Duty Paid" mark, no health warning, foreign language or spelling mistakes on the pack; or an unusual taste and smell.
"Illegal tobacco covers a whole range of ways the product could have entered the country, including smuggling, counterfeiting and goods being brought into the country on the premise of being for 'personal use', then resold.
"We are determined that this illegal trade will not only be detected in Somerset, it will be dealt with in the most stringent way possible."