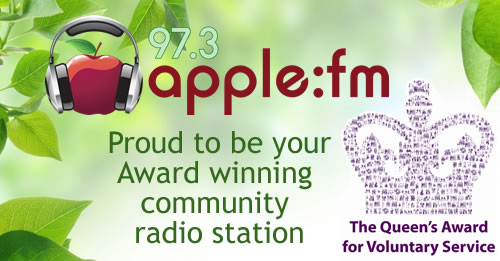 Apple FM is now your favourite award winning Station – It's official!
We are delighted to report that we are the recipients of a Queens Award for Voluntary Service in this years awards. It is the equivalent to an MBE and it is the highest honour that can be bestowed on an community organisation.
Your brightest local Community Radio station is one of 187 charities, social enterprises and voluntary groups to receive the prestigious award this year and the only one to receive the award in the whole County of Somerset! The number of awards handed out to groups have increased by over 60% from 2014, due to an increase in high quality applications, showing that the voluntary sector is thriving and full of innovative ideas to tackle community challenges.
The Queen's Award for Voluntary Service is the highest award given to local volunteer groups across the UK to recognise outstanding work in their communities. The awards were created in 2002 to celebrate the Queen's Golden Jubilee and winners are announced each year on 2 June – the anniversary of the Queen's Coronation. Award winners this year range from Ablaze, a charity helping to raise academic achievement amongst disadvantaged young people in Bristol to a volunteer rescue boat service on Loch Lomond.
Apple FM will receive the award from the Lord Lieutenant of Somerset later this summer at an awards ceremony.
A representative from Apple FM has already been to a Garden Party at Buckingham Palace in honour of the award.
Apple FM Managing Director Philip Knighton was overjoyed:
 "I have always been proud to be a part of Apple FM and for the organisation to be chosen for a Queen's Award for Voluntary Service is a high honour indeed. It is a recognition not only of the many thousands of hours that our volunteers have freely given to maintain a radio service for the caring community of Taunton, but also of the ethos of the station and its aims and commitments for the future. The award is not only for the current team of volunteers, but for all those who have given of their best over the last forty two years and turned the initial project of a radio station for Musgrove into a much wider vision of community radio with its opportunities for involvement and empowerment across Taunton Deane. They built the strong foundations from which we now build anew and I am always aware of the debt owed to all who have gone before."

"There are many challenges in the future, but the accolade of the Queen's Award for Voluntary Service will remind us that others have trust and confidence in what we do. May it be an inspiration to us all at Apple FM and may we continue to be a positive force in a difficult world."
Musgrove Park Hospital's Chief Executive, Dr Sam Barrell, said:
"I would like to offer my warmest congratulations to all of the volunteers at Apple FM. The Queen's Award for Voluntary Service is a very prestigious accolade, one of great honour, and only amplifies how much of an asset they are to the hospital and our local community."
The Queen's Award for Voluntary Service Committee Chair, former broadcast journalist Martyn Lewis CBE added:
"I warmly congratulate all of the inspirational voluntary groups who have been rewarded for their community work with a Queen's Award for Voluntary Service. The judging panel for this year's awards were struck by the quality and breadth of all the successful groups. The thousands of volunteers who give up spare time to help others in their community and to help solve problems demonstrate the best of democracy in action."
A full list of all National recipients can be found by clicking this link:  https://www.gov.uk/government/uploads/system/uploads/attachment_data/file/431404/qavs-winners-2015.pdf