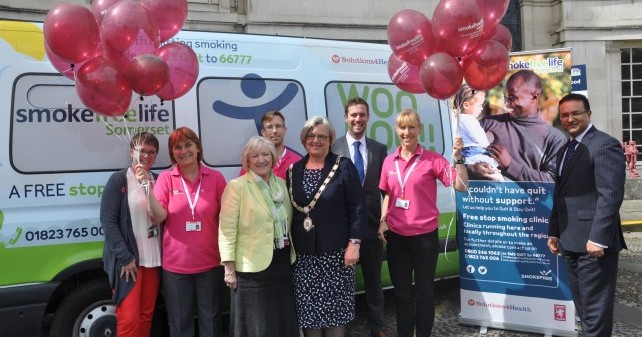 Somerset smokers wishing to quit will now have support closer to home and their workplace with the launch of an innovative mobile stop smoking clinic.
'Wellness on Wheels' is part of the new Smokefreelife service commissioned by Somerset County Council Public Health. The mobile stop smoking clinic will be staffed by practitioners specially trained in behaviour change to help clients have the highest possible chance of giving up smoking for good. Advice will be available in a number of different languages.
There are 800-950 deaths in Somerset from smoking each year and for every death there are around twenty people living with serious health conditions as a result of their habit, including cancer, heart disease and stroke. Smoking is the single biggest lifestyle factor in health inequalities, the difference in health between the most and least affluent communities.
Cllr. Ann Bown, Chair of the Somerset Health and Wellbeing Board, Somerset County Council said: "Reducing the numbers of smokers in Somerset, and protecting our children and young people from this deadly habit is a public health priority.
"The 'Wellness on Wheels' mobile clinic will provide a confidential space in the local community where smokers can get help from qualified practitioners to kick the habit. It will take the stop smoking service out and about to a wide range of locations around Somerset."
Kishore Sankla, CEO, Solutions 4 Health said: "We know many smokers want to quit, but many find the task daunting. Smokefreelife Somerset's 'Wellness on Wheels' clinic is one of many options where individuals can get expert advice and support to quit smoking for good.
"We are very much looking forward to delivering the service and working in partnership with the Council and wider communities."
The Smokefreelife service delivered by Solutions4Health was launched this April, commissioned by Somerset County Council's Public Health team. It offers smokers a wide range of support to quit, increasing smokers' chances of success at giving up the habit.