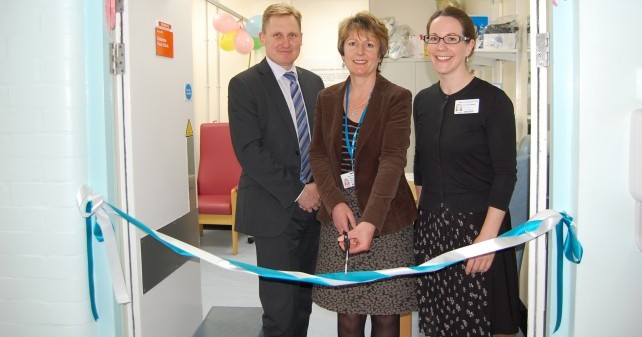 Taunton's Musgrove Park Hospital has opened a new specialist diabetes podiatry room.
The facilities, which were formally opened at an event in May 2015, which celebrated the new Somerset integrated diabetes foot care service, facilities offered to patients and the great improvements the hospital has seen in amputation rates.
Historically, Somerset has had high rates of amputation in patients with diabetes. For the last three years, Musgrove Park Hospital has been keen to drive forward change in this area, both within the hospital and across the county.
Musgrove Park Hospital has worked in close collaboration with Somerset Clinical Commissioning Group (CCG), Somerset Partnership and Yeovil District Hospital to find a countywide solution to this problem, which starts with prevention but also focuses on quick and efficient referral when disease does develop.
Consultant Physician and Endocrinologist at Musgrove, Dr Julia Thomas, said:
"The new service has streamlined referral pathways so that diabetes patients with known high and intermediate risk to their feet can directly refer themselves to emergency foot clinics and community podiatrists can directly refer to consultants or for admission.  Barriers between community and hospital teams have been broken down, creating a 'Super- Multidisciplinary Team (MDT)' spanning Somerset.
"The service has at its heart National Institute for Health and Care Excellence (NICE) and Diabetes UK recommendations and from these we have built a practical service that meets the needs of patients in Somerset.
"We are delighted with this new Specialist Diabetes Podiatry Room, situated in the Musgrove Vascular Unit.  The room will be used for patients with complex foot disease to allow them to see a range of specialists, including Podiatrists, Vascular Surgeons, Orthopaedic Surgeons and Diabetes Consultants.  This is multidisciplinary care with the patient at the centre."
Musgrove's service was peer reviewed by NHS England in January 2015.  The comments the hospital received reinforced the great work they had achieved in a short space of time.
However, the results speak for themselves. The number of major limb amputations performed in patients with diabetes at Musgrove Park Hospital is dramatically falling: 22 cases in 2012; 20 cases in 2013 and only 12 cases in 2014.
Musgrove's Deputy Chief Executive, Peter Lewis, who attended the celebratory event, said:
"The falling amputation rates are a great demonstration of how beneficial this joined up approach, focusing on prevention and cross-team working, is having on the health and wellbeing of those with diabetes in Somerset. We are immensely proud of the success of this service and the positive impact the new facilities are having on our patients."
Musgrove Park Hospital's foot multidisciplinary team would like to remind all individuals with diabetes to ensure they attend their annual foot check at their GP practice.  Diabetes UK has some excellent online resources to help patients with diabetes care for their own feet. These can be found at: www.diabetes.org.uk/Guide-to-diabetes/Monitoring/Feet/
Please note: If you have diabetes and develop a break in your skin or sign of infection in your foot, please seek medical advice urgently. If you are known to the community podiatry service, you can directly refer yourself by calling: 0300 033 3003.