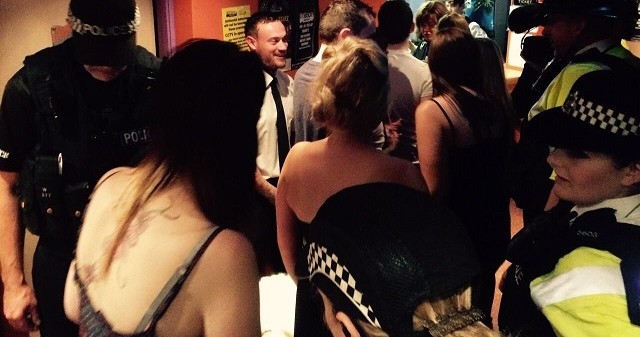 Bridgwater police officers hit the town to raise awareness on the dangers of so called legal highs on Saturday night (13 June).
Two drug detection dogs were used. Patch is a collie, and Ollie a Springer worked in and amongst the crowds, queues, even walking around the inside of premises. Three people were caught in possession of cannabis, two of which were a result of indications from Patch.
Avon and Somerset Police's Operation was 22 officers strong consisting of PCs, PCSOs and Specials, two dog handlers and their dogs. Avon and Somerset Police joined forces with South West Ambulance, legal high protest group South West Action Group (SWAG) and Sedgemoor District Council to:
To engage and educate those in Bridgwater town centre about legal highs, the new legislation and the possible effects. Avon and Somerset Police estimate that they reached more than 800 people on the night
To reduce any anti-social behaviour caused by the consumption, possession and supply of controlled substances and legal highs
To detect those who are in possession of controlled substances through proactive searches – assisted by the drugs itemiser which takes a swab from your hand this is put into the machine and it detects if the individual has recently been in contact with drugs. A total of 230 people were swabbed – with 22 positive indications which resulted in a drug search
To support the South West Ambulance Trust with its mobile treatment centre who were looking out for people who needed support
To support door staff in licensed premises with drug and legal high related incidents. Avon and Somerset Police's presence was well received and local landlords supported them in their searches
PC Colette Ranson said:
"Since the closure of Hush in Taunton we have been closely monitoring the impact on Bridgwater Town Centre and we have experienced an increase in anti-social behaviour and crime due to the use of legal highs in public places.
"We are concerned about so called legal highs and the devastating effects they can have on users. We consider the night to have been a great success. We have spoken to more than 800 people to raise awareness on the dangers and we hope that this education programme will impact on not just users, but also pub landlords and club owners so they can spot the early signs."
What can the community do?
Pass information about any premises or person selling so-called 'legal highs' to the police. Report online, by calling 101 or through the independent charity Crimestoppers on 0800 111 555. They never ask your name or trace your call
Report if you find any so-called 'legal high' packaging in the possession of under-18s
Report any incident of anti-social behaviour or crime which may involve someone who has taken a so-called 'legal high'
Report any person or premises where so-called 'legal highs' are sold to children
For help or advice call the Somerset Drug and Alcohol Service 0300 303 8788