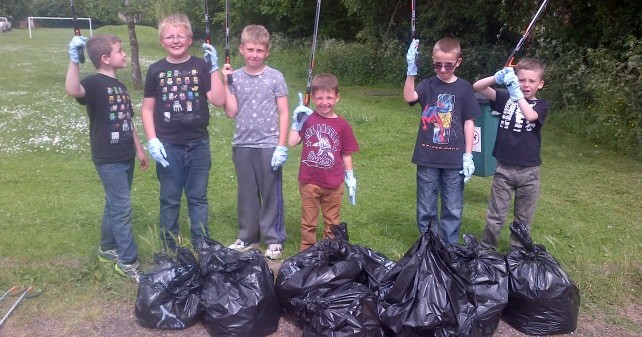 Young litter pickers in Wellington are looking forward to the rewards they can reap by being part of the newly launched Dreamscheme locally.
They took part in a clean up of The Mounds area in Priory, helping to fill several bags with rubbish – and earning points towards some fun activities in future.
The scheme in the Wellington East area is led by Taunton Deane Borough Council's Community Development team under the Wellington One Team umbrella.
It aims to harness the energy of bored young people and make a real difference to their community. The Borough Council has invested £2,000 in the project, match funded by the One Team.
The One Team brings public sector services together – local authorities, police and the fire service – to work with the community and improve life for local people.
The Dreamscheme in the Priory area involves community development working with local Police Community Support Officers (PCSOs) and Knightstone Housing's Community Empowerment Team.
They will work with young people to achieve improvements to the neighbourhood. In return the young task force earns points that can be put towards rewards and activities.
Jane Edmonds, Assistant Director of Individual and Community Empowerment at Knightstone, said:
"We're really pleased to have started another Dreamscheme in Wellington. It's great to see young people getting involved in the project already, and making such a positive contribution to their local community."
Paul Chamberlain, who leads the Wellington One Team said:
"Our motto is 'Think Differently Do Differently', and it is our One Team guiding principle towards reducing crime, anti-social behaviour and improving the quality of life locally."
The next event will take place at the beginning of the summer holidays, so if you live in the Priory area then keep your eyes peeled for details.
Parental consent is required prior to a young person taking part.
For more info or to request a consent form, please contact Martha Dudman, 01823 356553, m.dudman@tauntondeane.gov.uk