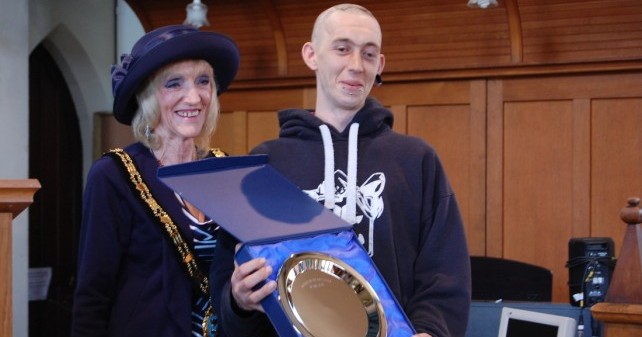 From a community coffee shop in North Curry to an 84-year-old Active Living volunteer in Mark – 'Star' volunteers from across Somerset were recognised for their commitment at awards ceremonies taking place across the county to mark National Volunteers Week.
As part of this year's celebrations, voluntary organisations and members of the public were asked to nominate 'Somerset Star' volunteers who deserve special recognition for the voluntary work they do. Over 100 nominations were received from across Somerset with winners for each district awarded the prestigious award as part of the Volunteers' Week celebrations.
Council Leader, John Osman, praised volunteers for their efforts:
"It is fantastic that we can recognise just a few of our dedicated volunteers with these awards. Volunteers are unsung heroes that do so much without asking for anything in return and I would personally like to thank all volunteers in Somerset for their work."
Successful entries from each district of the county were selected by local volunteer network panels.
All entries will now be put forward to win the County Star Volunteer Award, a new, very special award chosen by a panel of Somerset County Council senior executives and Cabinet members, which will be presented to the winner at the Somerset County Council Chairman's Awards this autumn.
District winners
Taunton Deane
Individual and overall winner: Tommy Gill
Tommy is a volunteer mechanic at 'On Your Bike (Recycle) Ltd' where he helps refurbish scrapped bikes and then supports their users by training them in bike maintenance. The project operates in an area of high deprivation and provides reasonably priced bikes for work and play.
Group: North Curry Coffee Shop
The coffee shop is a community project run and staffed by volunteers – open from 10am to 5pm six days a week. It provides a meeting place for parishioners sells food and drinks at affordable prices. It's also an outlet for local art, handicrafts, flowers and second-hand books – with all profits going to nominated charities or local groups. Since 2006, they have raised over £100,000. Over 80 volunteers help to offer a fantastic facility for the village and financial help for charities and local groups.
West Somerset
Individual and overall winner: Charmaine Coates
Charmaine volunteers for West Somerset Home-Start; their volunteers offer support, friendship and practical help to families at home with children under seven. Charmaine also volunteers for 'The Hub' in Alcombe and helps to run the local Girls Brigade.
Group: St Margaret's Hospice
The volunteers for St Margaret's Hospice are invaluable in running and organising the charity shops in local towns. They also run carer support groups, work as complementary therapists, help with local transport, and even arranging flowers for local hospices. The Volunteer Sunflower Friends have been running for nearly three years and provide valuable support to hospice patients within their own homes.
Environment (sponsored by Exmoor National Park): John Chedgey
John was nominated by Stogursey Parish Council for his invaluable work, keeping all the footpaths and Rights of Way clear in the local area.
Mendip
Individual: Nasib Otaqui
Nasib is an IT volunteer with Somerset You can Do (SYcD) Services. He is extremely patient, understanding and easy going and often supports two or three customers at any one time. He has done some outstanding work helping people to access their computers and smart phones and teaching them how to use the various programmes, often doing crib sheets to leave with customers who have memory issues, so they can follow his instructions.
South Somerset:
Individual: Peter Salisbury
As a Side by Side volunteer, Peter provides one-to one support for several people with dementia. He meets up with each of them once a week for a few hours to help them enjoy doing things they enjoy, either at home or out in the community. Peter also supports several Memory Cafés and Singing For The Brain (STFB) groups – he provides transport, sets up the equipment, meets and greets, talks to members, provides refreshments – and even joins in with the singing! Finally, he also volunteers at CRISP (Carer Information and Support Programme) carer's courses, in a similar manner to SFTB and the Memory Café.
Sedgemoor:
Individual: Audrey Cox
Audrey is a very dedicated volunteer at the Mark Active Living Centre. Sudrey, who is now 84, has been volunteering there for 25 years. She works many hours through the week to make sure that people always have a good day out on Monday. Audrey has a good team of local volunteers who support her with the care of the members of the group. Apart from volunteering for the Active Living Centre, Audrey is a volunteer for the Friendship Club, linked to the church, and has been running that group for over 50 years.