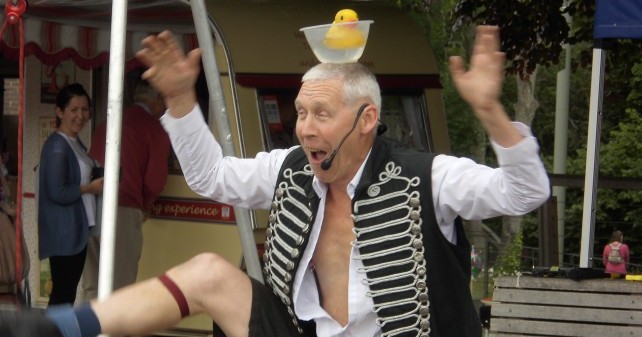 The centre of Taunton was buzzing on Saturday as Somerfest 2015 turned the town into a hive of activity.
Young and old – and ages in between – enjoyed a day packed with fun things to do and see from acrobats to acoustic bands, arts and crafts to live music.
The festival brought a huge influx of visitors to the county town, helping to boost trade in shops, eateries, bars and pubs.
Cllr Mark Edwards, Deputy Leader of Taunton Deane Borough Council, is events champion and was inspired to launch Somerfest after the hugely successful Olympic Torch Relay drew huge crowds to Taunton in 2012.
"Somerfest 2015 proved to be an incredible day and had exactly the right feel. It was immensely family friendly and was a real celebration of our town and our open spaces.
"The benefits to Taunton are borne out by the increased numbers coming into town compared to a 'normal' Saturday. We saw footfall up by more than 20% on the day – and a real increase on last year's event.
"I would like to thank everyone who worked so hard to make Somerfest 2015 such a great day out for everyone."
The Borough Council commissioned Sally Mann, of Fuseperformance, to deliver this year's midsummer festival – and her team really did deliver with support from the authority and partners including TIME4 Ltd, CICCIC, The Brewhouse  Theatre and Blackdown Hills Business Association.
The young took centre stage at many of the events and performances including young people Streetlinkz from Halcon and the spectacular parade of 200 school children weaving their way between Castle Green and Goodland Gardens.
Comments from the public included: 'Great gig rocking Taunton' – 'Had a super time at Somerfest in Taunton' – 'Great event enjoyed by all' – 'Somerfest was awesome' – 'We had a wonderful time' – 'Somerfest was stunning' – 'Had an amazing time listening to music' – 'You should be very proud'
Highlights included small sandy beach that was created in Goodland Gardens, complete with Burtlin's Redcoats – and to make sure nothing went to waste the sand was later delivered to French Weir Park to top up the sandpits.
View Somerfest in pictures on both our website and our Facebook page.