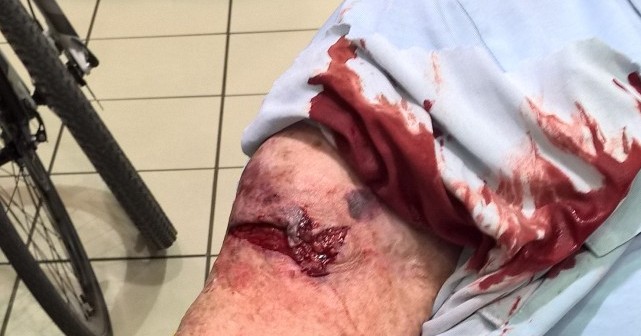 Avon and Somerset Police are hoping that someone will recognise a cyclist who appears to have caused a significant arm injury to an elderly lady in Taunton town centre.
It happened in Cheapside on Tuesday (23 June) at 4.30pm when the 86 year old victim was riding her mobility scooter towards East Street and the cyclist mounted the pavement in the other direction.
When they passed she suffered a deep cut to her arm whilst the cyclist carried on despite the shouts of passers-by for him to stop.
He is described as a white man in his early 30s with blond hair which was cut long on top and short on the sides, and was wearing a white t-shirt with dark shorts or trousers at the time. He cycled up Paul Street to Mary Street.
Taunton Central Team Sgt Neil Kimmins said:
"There is no suggestion that this particular incident was deliberate but if, as the information suggests in this case, a person cycles through a crowded area at speed and hits someone, then this reckless action could find them being prosecuted for a lot more than just cycling on pavement.
"It's a really nasty injury this lady suffered so I hope someone will recognise him from him description and that anyone who hasn't already come forward to make a witness statement will do so very quckly."
If you have any information please call Taunton Police Station on 101 or you can pass on information in confidence to police via the Crimestoppers website or by calling them on 0800 555 111. The crime reference to quote is 69586/15.