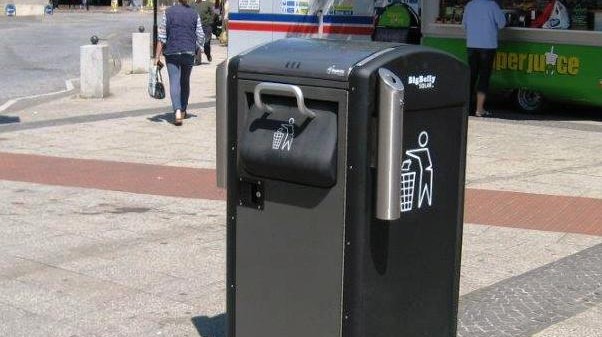 High tech waste bins with BIG appetites are being trialled in Taunton and Wellington to see if they could help devour some of the costs of rubbish bin collections.
The Bigbelly bins use solar energy to power compactor units that compress the litter, allowing up to eight times more waste to be stored before the containers need emptying.
And that's not all – cloud technology enables an alert to be sent to staff back at base, the DLO, when the bin needs to be emptied.
The bins are being piloted in Taunton and Wellington town centres as Taunton Deane Borough Council joins other forward-thinking local authorities nationwide in testing how the Bigbelly bins could help keep streets clean and cut costs.
The innovative bin consists of a solar PV module, which powers a 12v battery, which in turn provides the power for the internal compactor.  A Bigbelly unit takes up roughly the same footprint as an existing street bin but, because of the compactor, can hold eight times more waste than the average bin. The solar-powered compactor exerts 1,200 lbs of force and runs on less than 5Wh per day, provided entirely by the sun's energy.
The solar-powered bins also feature two volume sensors that, when triggered, will send a text/email to the council warning them that the bin is ready for emptying. Councils can access a map of its streets and parks to locate each bin and its current capacity status, helping them schedule collections efficiently, reducing the carbon footprint of the collection service.
Cllr Patrick Berry, who holds the Environmental Services portfolio, said:
"We will be testing out the bins to see whether they can help us deliver real efficiencies in terms of cost, collections and helping to keep our town centres clean and tidy.
"I am delighted Taunton Deane is prepared to look at new solutions that harness some incredible technology to tackle a very basic problem – litter."