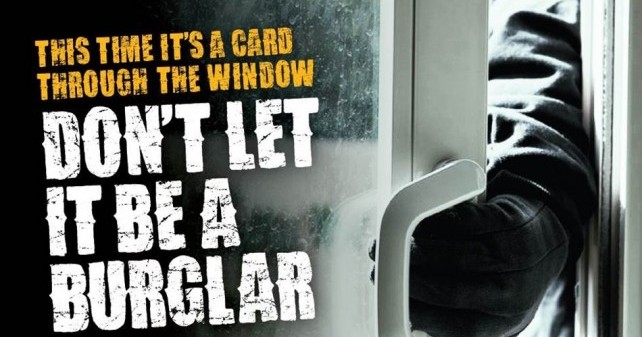 Avon and Somerset Police are urging people living in the Bridgwater area to be aware after a number of attempted break-ins and burglaries over the past month.
Officers are delivering crime prevention information in the affected areas, visiting the victims and alerting householders if they spot a property which appears vulnerable while on patrol.
In three cases the thieves were unable to break into people's homes, but in another three they got in through insecure windows or doors.
• Overnight Saturday 20 June to Sunday 21 June thieves stole a bag and phone from a house in Durleigh Road while the family slept. They got in through an insecure window.
• In the afternoon or evening of Sunday 14 June the door of a home in Northgate was damaged in an unsuccessful burglary attempt
• A laptop, charger and speakers were taken from a home in Wembdon Road overnight Sunday 7 June to Monday 8 June. The thieves got in through an insecure window
• Thieves got into a home in the Wembdon Road area through an insecure door to steal a handbag overnight Friday 5 June to Saturday 6 June
• Between Monday 1 June and Wednesday 3 June thieves damaged a door in an attempt to break into a home in Kendale Road
• During the daytime on Tuesday 2 June thieves broke into a shed in Northfield and stole tools to try to force the house door. They were unsuccessful and the tools were left at the scene
Officers have also had 12 reports of burglary or attempted burglary of sheds and garages in the same area, with doors being forced to steal tools, paint, and sports equipment.
Neighbourhood Inspector Andy Pritchard said:
"We recommend joining your local Neighbourhood Watch. It's a good idea to install security lighting and keep your gates locked, especially at the back of the house.
"Make sure your shed or garage has good quality locks and fit a battery-powered alarm. Also make sure doors and windows are secure unless you're in the same room – and keep your ladders locked securely away so no one can use them to climb through an upper window.
"Please look out for your neighbours and call 999 straight away if you spot anyone acting suspiciously around someone's home."
Anyone with any information which could help their enquiries into these incidents is asked to get in touch through their website, www.avonandsomerset.police.uk/contact-us or by calling 101, quoting reference 59439/15. Alternatively ring the independent charity Crimestoppers on 0800 555 111. They never ask your name or trace your call.
There's more home security advice on their website,
https://www.avonandsomerset.police.uk/newsroom/features/simple-steps-to-protect-your-home/