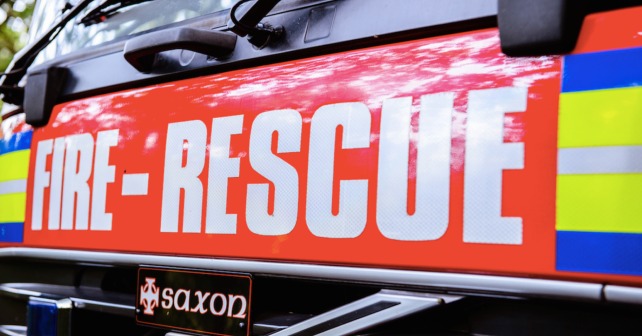 Three fire appliances were all mobilised to reports of a property fire on Bears Meadow Lane, Kilve, Bridgwater at 10:34 this morning.
On arrival, crews confirmed one property well alight and requested that an additional appliance be mobilised to attend.
10:54 – Crews requested the attendance of Ambulance due to one person suffering the effects of smoke inhalation.
11:00 – Single storey private dwelling roof fire confirmed. Crews were using 2 main jets to try and tackle the fire.
11:04 – Crews noticed a large oxygen cylinder involved in the fire and proceeded to withdraw to a safe area. Crews also repositioned jets to use in a defensive mode.
11:25 – Crews requested an additional 2 appliances to be mobilised to the incident as a make pumps 6 was passed to fire control. Crews also stood down the water bowser as it was not required but asked for the catering and welfare unit to attend.
11:30 – Crews withdrew to a safe distance and the incident was now sectorised. Analytical risk assessment was in place. Crews also using 2 main jets, 1 hose reel jet, and 1 ground monitor.
11:42 – Police were requested to attend due to the possible evacuation due to the involvement of cylinders inside the property.
12:01 – Crews requested western power to attend for external isolation.
12:27 – One male and two female casualties now being conveyed to hospital after assessment by paramedics.
13.06 – Police helicopter in attendance using a tic to locate oxygen cylinder.
15:25 – One detached property used as private house severely damaged by fire. Crews used 3 main jets, 3 hose reel jets, 4 breathing apparatus sets. Crews continue damping down hotspots from outside.
Incident is still ongoing…..