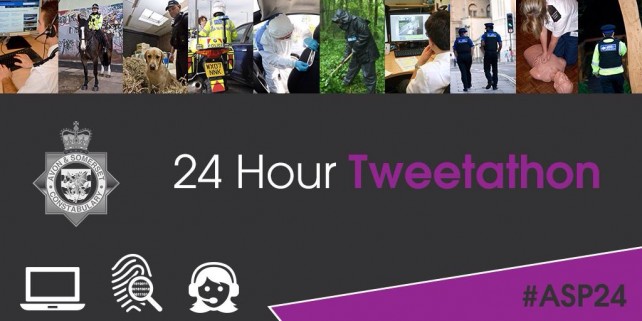 Avon and Somerset Police have embarked on their most ambitious social network event yet – giving people an insight into the world of policing and all that happens behind the scenes.
Call from man wanting to report a seagull stealing his sandwich. Sometimes there are no words… #ASP24

— ASPoliceLIVE (@ASPoliceLIVE) July 22, 2015
Following the success of the force's first ever 24-hour tweetathon in March, which used Twitter to show the volume and variety of 999 and 101 calls it receives in one day, a force-wide 24-hour tweetathon got underway at 12:01 this morning (Wednesday) and continues through to 11:59 tonight (Wednesday).
A suspicious call about a male picking up pebbles – luckily the police are only a stones throw away… #ASP24

— ASPolice Bridgwater (@ASPBridgwater) July 22, 2015
Hundreds of tweets have been sent out from teams and departments across the constabulary to demonstrate the breadth of work that goes on behind the scenes and on the front line to keep residents safe and prevent crime.
Heavy rain in the night… Just received a call from someone splashed by a puddle! #ASP24

— ASPoliceLIVE (@ASPoliceLIVE) July 22, 2015
Acting Deputy Chief Constable Gareth Morgan said:
"This is a great opportunity to share with the public the full range of events and incidents dealt with by Avon and Somerset Constabulary in a day and why that takes more than an officer to respond – the call needs to be answered, the ICT supported, the intelligence checks undertaken and their vehicles maintained.
"Police officers and staff need to be trained on current legislation, the custody staff must be responsible for the welfare of people we detain, and the investigation of complex and serious crime goes on 24/7. There is no back office in policing. We are all at the forefront of serving the public and this event will help demonstrate that."
Call from man in #HarveyNicholls complaining they wouldn't take his e-vouchers. Not police matter or emergency. #ASP24 Goodluck Harvey Nic's

— ASPoliceLIVE (@ASPoliceLIVE) July 22, 2015
Police have been sharing examples of calls received through 999 and 101 to reveal the vast range of incidents officers have to adapt to and deal with throughout the day. The priority will always be serving and protecting the public but when possible the policing teams across the force will be tweeting.
Officers investigated abandoned 999 call. Found female victim of dom' violence at address, had been punched. Man arrested. #noexcuse #ASP24 — ASPoliceLIVE (@ASPoliceLIVE) July 22, 2015
All departments in the constabulary from finance through to training are supporting the event, either live tweeting or providing facts and figures to reveal the roles, responsibilities and resources needed to keep the force running smoothly and successfully.
999 what's your emergency? "The taxi seat belt's too tight and has no leeway." Advised her to speak to the taxi company #ASP24

— ASPoliceLIVE (@ASPoliceLIVE) July 22, 2015
To keep an eye on what is happening and to find out more about policing in Avon and Somerset follow @ASPoliceLive Also search for #ASP24 to see the tweets sent by the individual police Twitter accounts taking part across the force.